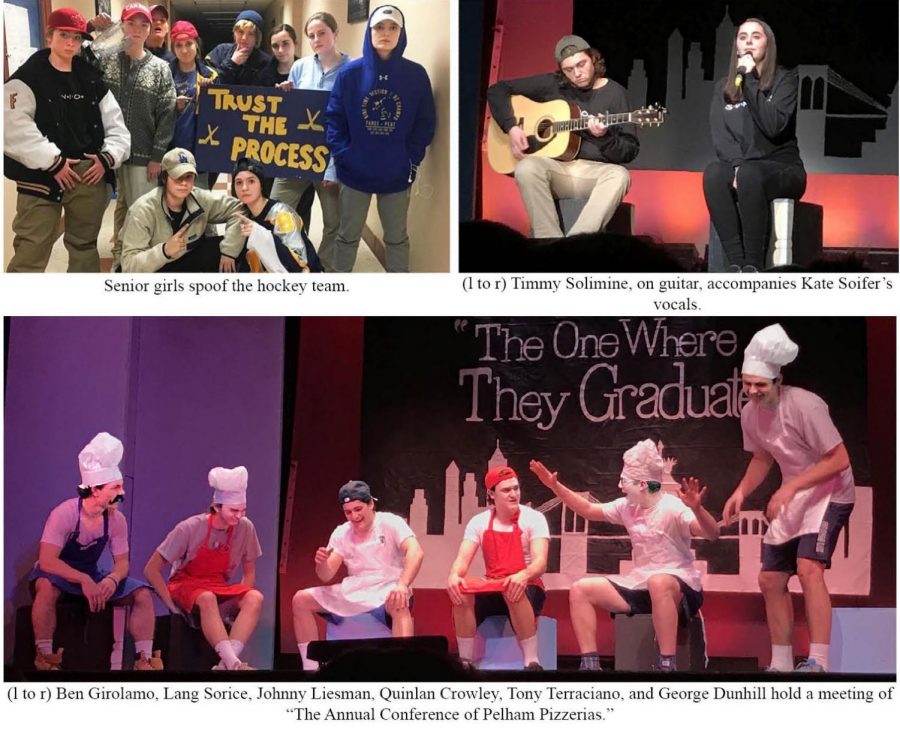 Lucy Edmunds
At just about the halfway point in the school year, the PMHS seniors bond together to "roast" the things they will miss the most and show off a terrific variety of performance skills in their talent show. The show raises money for their prom, and is a fun way for students to celebrate the experience of their four years together. The theme of the Class of 2018's production was based on the famous sitcom, Friends, titled, "The One Where They Graduate," an homage to the way the show named its episodes. "The One Where They Graduate," was performed on February 2 and 3 for a packed audience of teachers, students and parents with skits and impressive musical performances.
Among the skits that received overwhelming approval from the crowd was "The Annual Conference of Pelham Pizzerias." Performed by Ben Girolamo, Lang Sorice, Johnny Liesman, Quinlan Crowley, Tony Terraciano, and George Dunhill; this skit spoofed a battle between the owners of (what seems like) the dozens of pizzerias in Pelham. The boys had the crowd roaring with laughter.
"The best part of the pizza skit was how unorthodox it was. Nobody had explored this in the talent shows prior," Terraciano said.
Musical talents were on display as well. Senior Anais Leon-Kelly performed "Feeling Whitney" by Post Malone, and Nick Wessman and Will Shelton performed a piano duet of "Vida la Vida" by Coldplay. All the performances and skits illustrated the vast talents of the class of 2018.
"Overall, I thought it was really successful and that we got a lot of laughs from everyone," senior Julianne Argento said.
The evening ended with a slide show highlighting the good times shared by the grade. Friendships, teamwork, challenges, achievements, good times, and those that were bittersweet were re-lived by the class of 2018 and their allies, to end the evening on a high note.