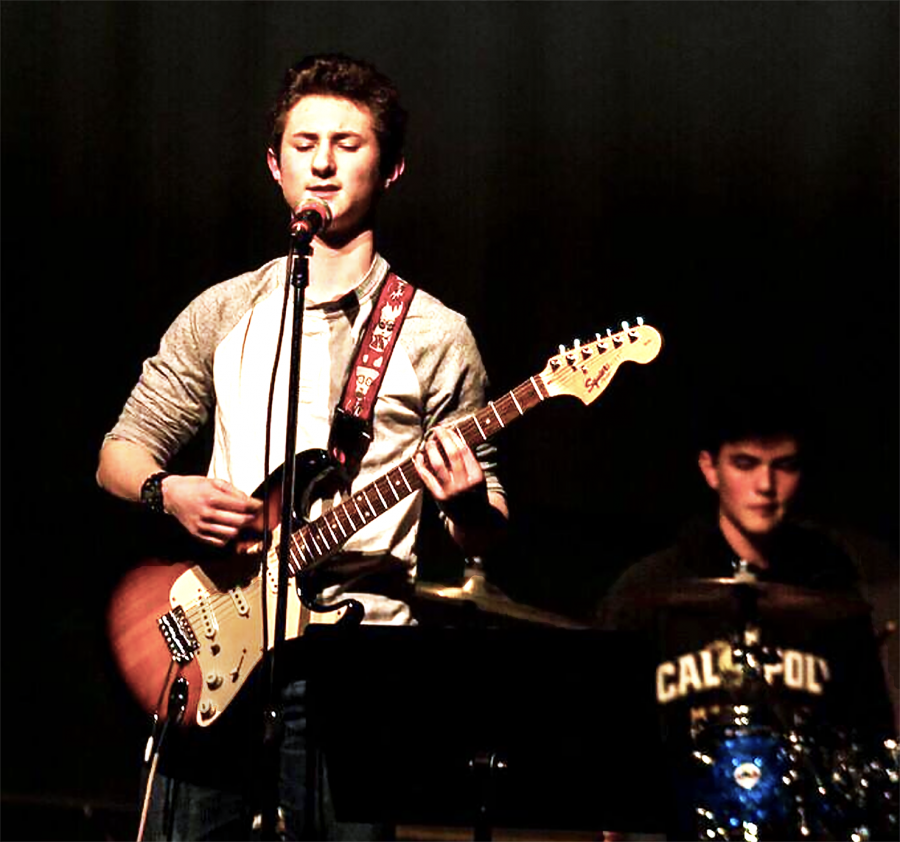 Photo by Kyle Richardson
The yearly tradition of Battle of the Bands at Pelham Memorial High School is an invigorating event for all who attend. As students show off their musical talents, parents, family and fellow classmates listen, absorbed by the performances. The music of seven bands filled the PMHS auditorium on January 11 for this year's "battle."
Among the performers were bands such as Caravan, Palm Tree Child, and Seventh String.
Palm Tree Child, composed of the Fair sisters, sang from a playlist that included Hawaii by Waterparks and She's Kerosene by The Interrupters.
Junior Aidan D'Amore blew the roof off the auditorium with his solo performance on the guitar.
A special addition to the show this year was from Pelham's own Acapelicans. They had never before been on Battle of the Bands and had this special opportunity to rock PMHS.
While the audience clearly had an excellent time, their enthusiasm was only matched by the high-energy that each performer brought to the stage.
"It was great to come together with some other student musicians and put together some great covers," Caravan member junior Connor Kagel said.
"I really loved being up on stage performing in front of everybody. It also made it better that I was able to perform with by two brothers," senior Nora Tahbaz said. This will be her last year rockin' out in the PMHS spotlight, and no doubt this was a feeling shared by many of the graduating seniors for whom this was their last "battle".
This event, set for the beginning of January, is traditionally scheduled for the week before midterms as an excellent way for students to relieve stress and decompress. Ms. Ricci, who recently retired, created this event when she was a class advisor to help relieve stress and raise morale before the tests. It continues to ease the minds of all music lovers who decide to attend the vibrant showing of the musical talents of PMHS students.
Ms. Rice, who has been organizing the Battle of the Bands for two years, kept an annual tradition alive and rocking. This year, Ms. Jacobs joined Ms. Rice in planning the event.
"I am thrilled to be back working with the Student Association. Battle of the Bands is one of my favorite events!" Ms. Jacobs said.