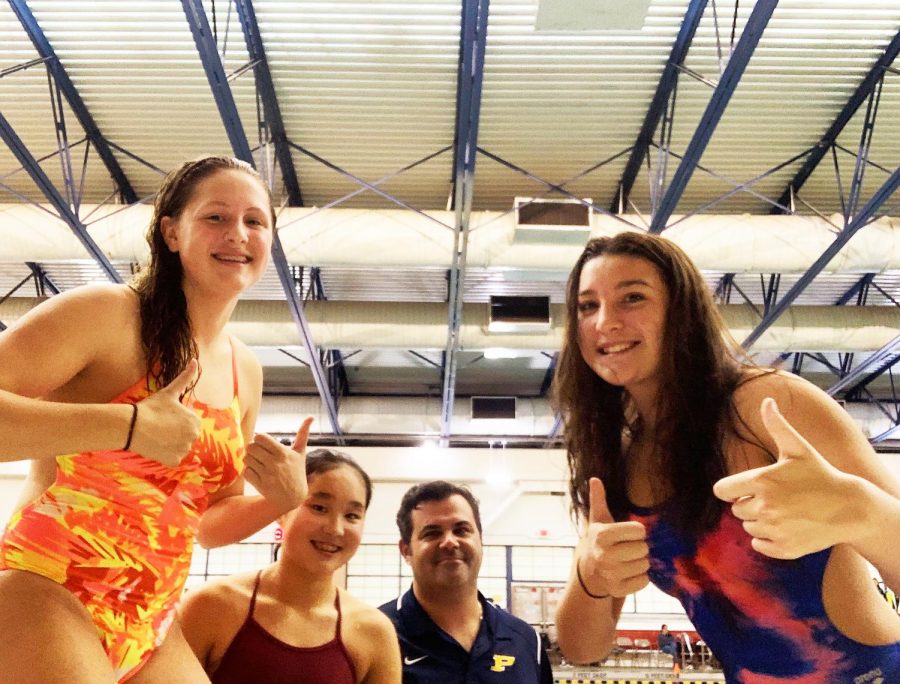 Photo courtesy of Asia Bertuccioli
Pelham's girls varsity swim team has made great strides toward success this year. The team, who is made up of both upper and lowerclassmen, was able to make it to two-day sectional finals in not only team-based events, but also individual efforts. Two swimmers were able to qualify through their individual efforts in the 500 freestyle, 200 individual medley, 100 freestyle, 100 backstroke, and 100-meter breaststroke.
"We came in seeded well from Divisionals, and overall were proud with making it back for day 2. We hope to have an even better season next year, with our ultimate goal to send a relay and hopefully individuals to states, too," junior Asia Bertuccioli said.
The girls also saw some success in team-based events. The 200-meter freestyle relay team placed 14th out of 44 teams on day two, and the girl's 200-meter medley relay team was just .07 milliseconds away from qualifying for day two of finals. Both relay teams were made up of the same swimmers, freshman Cindy Wang, and Julia Gunster, sophomore Kate Dougherty, and junior Asia Bertuccioli. These relay teams displayed their great potential in for the next few years of Pelican swimming. Wang also qualified in the 500-meter freestyle and the 200-meter individual medley, as well as the 100-meter breaststroke. While she qualified for all three, Wang chose to swim the 200-meter individual medley and the 100-meter breaststroke. Wang seeded 10th out of 40 for the 100-meter breaststroke and Bertuccioli qualified for the 100-meter freestyle and the 100-meter backstroke. Unfortunately, Bertuccioli did not advance in the 100-meter freestyle and backstroke for day two of sectionals, but she did make it to day two for the 200-meter freestyle relay. This is a big leap for the team and they hope to push their success to greater depths next year.
"We had a really young team this year with so much enthusiasm, which was fun for me to see as a senior. I have been on the team since 8th grade and I am super excited to see what the future holds for Pelham girls varsity swimming," senior captain SJ O'Connor said.