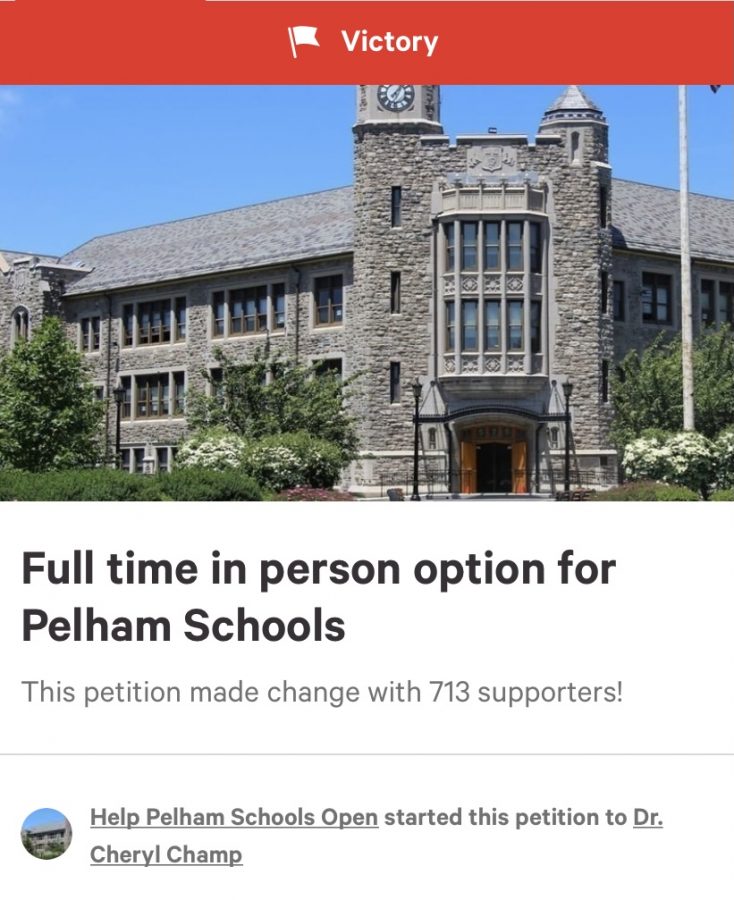 As the pandemic continues, Pelham parents have begun to grow impatient with the Pelham School system's approach to teaching and learning amid the pandemic. Last week, a group of Pelham parents sent out a petition on Change.org addressed to Dr. Champ, stating that they want their children back to full time and in person learning. The official statement they made was: "We need more children to have the option to attend school full-time and in-person this spring, and have all students full-time and in-person for the 2021-2022 academic year." The petition received 713 signatures, proving the strong push by Pelham parents to have the option for their children to go back to school full time. 
In the description of their initiative, the parents note issues with virtual learning such as mental health issues for students, the loss of learning kids are facing, and technology access challenges. The parents also hope that the schools can implement a task force that would be instrumental in implementing a safe return to full time, in person schooling. These parents are also reaching out to Senator Biaggi in an attempt to strengthen their power in their fight for in person learning, and have guidance with their approach. 
Soon after the petition gained great traction, the Board of Education responded with a letter from President Jessica DeDomenico stating that the board is looking for solutions to get kids back in school as soon as possible. 
In her letter DeDomenico wrote, "I want to assure you that the District and Board want our students to be able to return to normal as soon as you do. Speaking as a parent of four with children in preschool, elementary school and middle school, I share your frustrations and your concerns. I see the impacts the last 11 months have had on children at many levels of development. I also get to see the giant smiles that our kids wear on the days they return from their in-person days at school."
DeDomenico states in the letter that she is pleased to hear about the steps Dr. Champ and the district are taking as they develop a plan for in person, full time learning. These plans include: a prevalent testing program for student athletes and eventual district-wide testing, examining how many staff members have been vaccinated/when more will be, further studying of classroom space to determine what distancing could occur with more students, and consulting with Dr. Amler, Westchester County Department of Health Commissioner and local medical professionals to consider key metrics for when it is safe for more students to return to school. 
On February 11, the District sent out a Reopening Planning Survey in order for the district to assess different options for reopening for full time learning. This survey consisted of questions for parents K-12 regarding parents' comfort levels with changes to current distancing requirements in schools. 
The survey states, "To this point, the District has maintained six-feet distancing in accordance with New York State Department of Health recommendations. However, with the increasing availability of vaccines, the American Academy of Pediatrics school guidance that suggests 3-feet distancing could be considered, and decreasing infection rates, the District may be in a position to reduce the 6-feet distancing requirement at some point."
With more students in the building, there would be less space for distancing. This is primarily the focus of the letter and the main concern the district is facing. The survey asks parents whether they would prefer sending their children to school with the current six feet distancing model, or reducing the distancing to three feet, allowing more students to attend in person schooling daily. The survey also asks if parents would opt to have their children do virtual learning with decreased distancing in schools, or if parents would be comfortable with this, and send their children in daily. Parents can send this form in until February 22. These numbers and feedback from the survey will be crucial in allowing the district to get a clearer picture of whether they can go forward with planning to do in person instruction daily, or if hybrid learning will continue. A link to the survey can be found below. 
https://docs.google.com/forms/d/e/1FAIpQLSdhICIqkXA5LWMZbo2Cr9L2jB3okDLy22g1B2Cf8BstbXq9rw/viewform