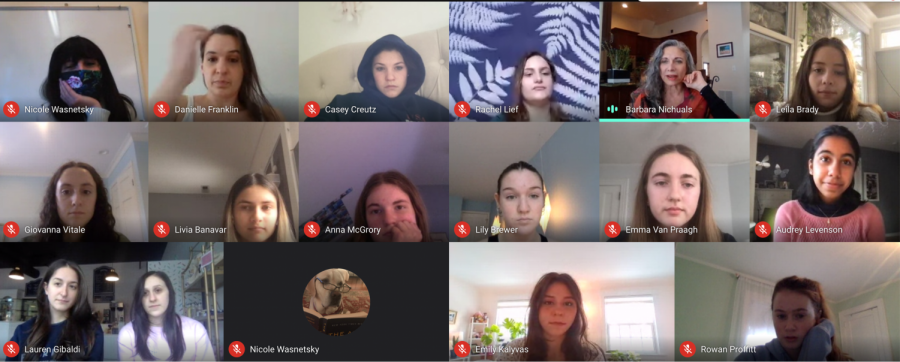 Monday, February 8, PMHS Women's Empowerment Club sponsored a Women in Business panel via Google Meet. Four local women entrepreneurs attended, sharing their stories and answering questions of high school students. 
Barbara Nichuals from Bayside Travel attended, telling the story of how she decided she wanted to be her own boss. She started out in the insurance industry and from there decided she wanted to be able to make her own decisions. She purchased multiple travel industries and was able to grow her company. With being in the travel industry she has learned to adapt, reinvent and recreate, especially with the COVID-19 pandemic. Barabra left the girls with a quote saying, "Believe in yourself, forge ahead, believe you can do anything. That's how I got to where I am."
In addition, Lauren and Miranda from Flour Power, the new bakery that opened at Four Corners, are best friends that started a business together. They have been shipping nationally since 2014, sending orders from their parents' basements and college apartments. After they had been working all across the food chain in other people's businesses, they decided they wanted to run their own bakery. They went viral online and decided to open a business during a pandemic. Investors were skeptical especially during COVID, but they had so much trust in themselves and their products. They opened their storefront and have been blown away by the support ever since. 
Danielle Franklin, from Thrive Barre Studio also discussed starting her business from the bottom. She was a dancer growing up and got into barre training with many of the top trainers in Westchester. She realized there were no barre studios in the Pelham area, so 12 years ago she and her two business partners opened up a studio at Christ Church. Right before the pandemic started, they opened up a new storefront on Wolfs Lane and although the pandemic has been a major factor in her business, they have made it through. 
Lastly, Danielle Marerro from Helping Hands on Wolfs Lane gave insight on her business. They had been wanting to expand their babysitting business and took advantage of the pandemic. They purchased a storefront to help young students through remote learning, specifically a lot of children of first responders. Their business has been very community based. 
To finish off the panel, the guest speakers participated in a q&a. When asked what their favorite part about having their own business was, a common answer was that they love getting to make their own decisions and seeing their visions come to life. Yet they also mentioned that it can be difficult when you work seven days a week and can never clock out, but when it's something that you love, it doesn't feel like work. Lauren and Miranda left with some important words saying that "It's important to build each other up and not tear each other down and to support each other's businesses."
"Take the negativity and let it propel you forward." said Barbra Nichuals when asked what it was like to receive negativity toward her business. 
Danielle Marrero added a quote from her father that she mentioned that she lives by, "You will never understand success until you understand failure."