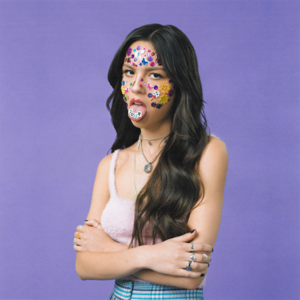 The highly anticipated album Sour by up-and-coming pop star Olivia Rodrigo dropped on May 21st. With two of the three lead singles from the album being Billboard number one hits, 18-year-old Rodrigo has already gone above and beyond what anyone could've expected from such a young artist. Sour is a pop album with some rock influence on a few tracks. Each song expresses the sadness, anger, and heartbreak of going through your first breakup. 
Each song in the album contributes to the story of a breakup. The first track starts the album off with a bang, a rock-influenced song called "brutal" that discusses the pitfalls of being a teenager. Rodrigo keeps up this rock style in other tracks like "jealousy, jealousy" and "good 4 u", allowing aside many of her fans and critics don't normally see. She uses the rock influence in songs that deal with a similar theme of anger, whether it be towards the world, an ex or yourself. "good 4 u" is also the second single off the album that reached a Billboard number one spot along with "drivers license", making her the first female artist to do this. 
The songs "drivers license" and "deja vu" are the other two singles off the album, "drivers license" being the lead and first single to reach number one on the Billboard charts. "drivers license" is the song that catapulted Rodrigo into stardom due to it going viral on Tiktok. The song is one most can relate to, and a strong first single to debut with. The catchiness of the chorus, relatability, and vocals all contribute to its smash success. "deja vu" was the other single off Sour, also another great song. The song has a fairy-like feel to it although it is a heart-wrenching song about being replaced and is one of my favorites of the album. 
Songs like "traitor", "1 step forward, 3 steps back", "happier" "enough for you", and "favorite crime" are sad ballads that display Rodrigo's truly stellar vocals, especially in "favorite crime". These songs explain the sadness and pain one goes through during a breakup perfectly. Although the sad slower songs take up a majority of the album, they make the listener feel and understand the exact way Rodrigo or anyone else has ever felt while heartbroken. Rodrigo ends the album with "hope ur ok", a love letter to people she hasn't spoken to in a while but lets them know she's proud of them and wishes them the best. It's the perfect ending to an album about heartbreak, saying thank you to the people she misses and pouring her heart out one last time. 
Overall, Sour is a great first album for Olivia Rodrigo. She was able to use the pain and heartbreak from her first breakup and turn it into an eleven-track confessional for her fans and others to relate to. This album also shows Rodrigo's immense potential. She has gathered a huge fan base to support her and this album is only the beginning of proving what she can do. Of course, the album isn't perfect — I personally would've enjoyed more rock-pop songs like "good 4 u" and "brutal." It sometimes felt as though I were listening to a bunch of sad songs back to back, hoping for something upbeat and inspiring. I would've liked to see more of a progression of going from heartbroken to happy again, but each song on the album expresses true and honest feelings that Rodrigo wrote herself. 
Olivia Rodrigo is a talented singer-songwriter who has already accomplished so much for her young age. She was able to create an impressive album that anyone who has been through heartbreak can relate to. For Rodrigo, the sky's the limit, and there is no doubt that she has the ability to continue her streak of hit songs going forward.