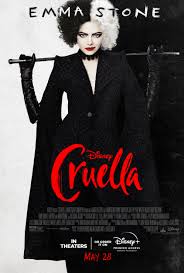 If you've ever wondered about how the character Cruella deVille of 101 Dalmatians became so cruel, this is the movie you've been waiting for. Cruella  is an origin story, which tells how a young girl, Estella Miller, grows up to become the iconic Disney villain we all love to hate. With a cast of well-known and talented actors, the movie is a fun and modern addition to this old Disney story.
Estella, who is played as a teenager by Emma Stone, is a penniless orphan who dreams of becoming a fashion designer. Her friends somehow get her a job at a department store, where she is discovered by a famous fashion designer, the eccentric Baroness, played by Emma Thompson. It turns out that the Baroness isn't as amazing as Estella has always imagined, and through a series of comic yet dark events Estella learns the truth about this person. And you, the moviegoer, learns the truth about that iconic black and white hair.
Cruella is a fun movie to watch, but moves a little slowly at almost two and a half hours in length. Still, this prequel is worth watching becausejj the actors are really great. Emma Stone is a three time Academy Award nominee and an actor we've all grown up with and love; you may have seen her in The Amazing Spiderman or La La Land, for which she won the Oscar for Best Actress in a Leading Role. Emma Thompson is also an Oscar winning actress.
In addition to the talented actors, this movie features a lot of great, recognizable music that keeps it lively and fun and wakes you up when things get a little slow. Some fun characters also make this movie more modern, such as Artie, played by John McCrea, who is a colorful and artistic vintage fashion store owner who compliments Estella's style. (He is supposedly Disney's first gay character, but it turns out they've said that seven times before and there's nothing in this movie that really shows he's gay except some stereotypes, which are fun but shallow).
Post-pandemic, it's just fun to go to a movie! Cruella is playing in theatres, but is also available on Disney Plus. For a little dark comedy with great actors and great music, Cruella is a great way to get back to the movies.