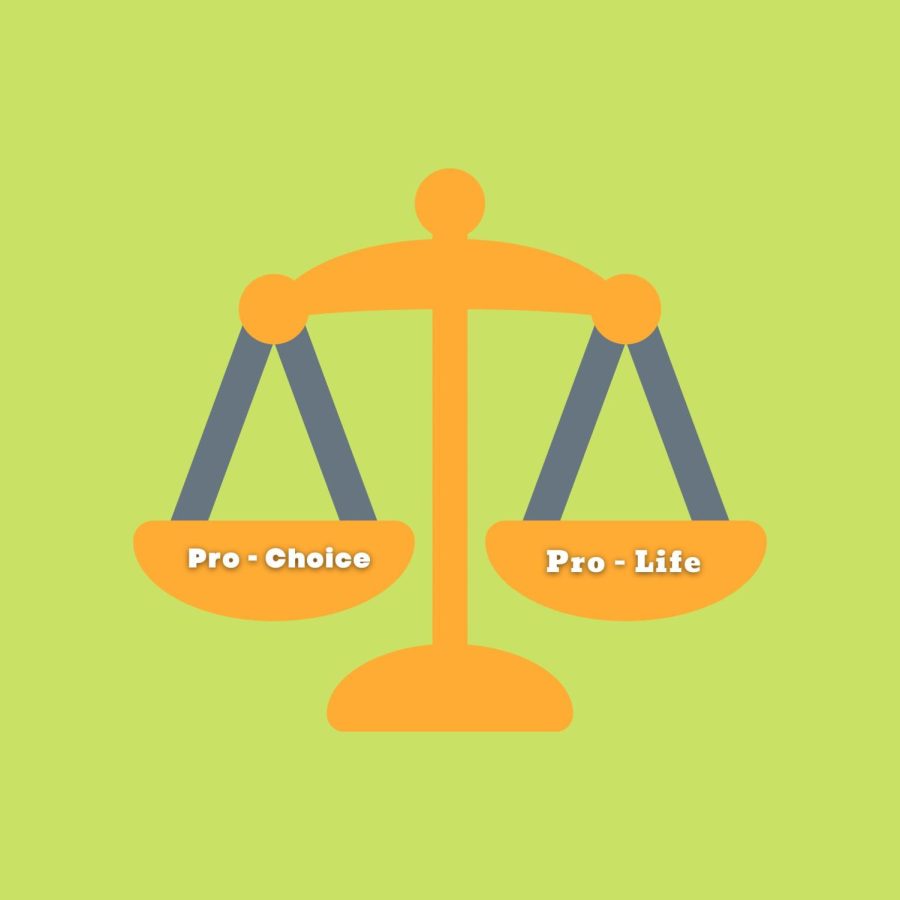 Graphic by Julian Knapp
Students are the future. Future voters, work force, government, citizens. The opinion of students is the opinion of a rising generation who will come to make up society one day. Which is why the opinion of youth on the state of our country is vital to understanding any issue.
Pro-life vs. Pro-choice has been a heated debate, particularly since the introduction of Roe V. Wade in 1973, but we believe that most Americans did not see the Supreme Court draft decision to overturn this landmark case coming. This unprecedented leak has inspired outrage, and reopened a wound that has been festering beneath partisan divides for years. While it is true that the leak was a breach of Supreme Court security, the whistleblower who leaked it did so at a great personal risk. It leaves the decision exposed to the court of public opinion, before it is decided by the Supreme Court. And the most important public opinion of all? Students.
It may be unprecedented for a draft decision to be leaked, but the decision to overturn Roe V. Wade would overturn a precedent that women fought for, relied on, and supported for decades. Roe V. Wade, regardless of your opinions on abortion, was a feat of activism and a display of how people can use their voices to make change. For that activism to amount to an overturning in the modern era, a reversion to the past, when we should be progressing forward as a country, is an atrocity.
The Supreme Court's failure to preserve the hard won victory of American feminists creates a need for a new fight. Those leading it have to be rising voters, and youth. It is on the shoulders of high schoolers like yourself to make steps towards progress.
To find out what students here at PMHS thought about recent events regarding Roe V. Wade and the Supreme Court, we sent out a questionnaire to the student body.
33 students participated in our survey, 21 females, nine males, and three non-binary. 31 of those participants knew what Roe V. Wade entailed and 18 were Democrats.
"The overturning of Roe V. Wade would be a terrible decision made by the Supreme Court as the right to bodily autonomy should be provided to all people across the world," said a student who participated in the Pel Mel Roe V. Wade survey. "If overturned, women would be denied the right to basic healthcare. Even though I personally would not be affected by the overturning, the confiscation of basic human rights and decency shown to women is abhorrent and is something that should not be peacefully accepted by the people of America."
"With women being forced to give birth, the majority of those babies would be left on door stops or given to orphanages which is already not a satisfactory life," said another student.
"On top of that, of the women that do decide to keep their child, many of them are too young to be a mature parent and cannot provide financially for the child." ….With most students thinking the overturning would lead to even more issues, there are still some that believe the overturning is the best decision.
"I mean I hope that by it being overturned, men would take more accountability for themselves,"said another student. "I also hope that it would allow for improvement in the childcare system, I believe that in order to keep a child or put them through 'the foster care/adoption' system that the US has it has to be a good system and right now the US's foster care system is absolutely terrible."
For the most part, the response was overwhelmingly not in support of the Supreme Court. The Supreme Court upholds the supreme law of land, but America is a country for the people, and perhaps the most important voices are future generations of voters.
Regardless of what one thinks about the leak, the most unprecedented action of all is to take away a right that women fought for over decades, that they believed to be secure for the future, to be taken away. If a court case so historically important, such a victory for women and activists can be lost, it begs the question: which of our other rights in America are not promised? This country claims to protect freedom, but freedoms of the most basic level, like bodily autonomy, are being threatened by the very people meant to uphold the supreme law of the land.
To the students who took the time to respond to the survey, we hope you continue to speak up for what you believe in. And to carry into the future defending the rights that were once promised, so we can continue to protect future generations from a formidable step backwards.