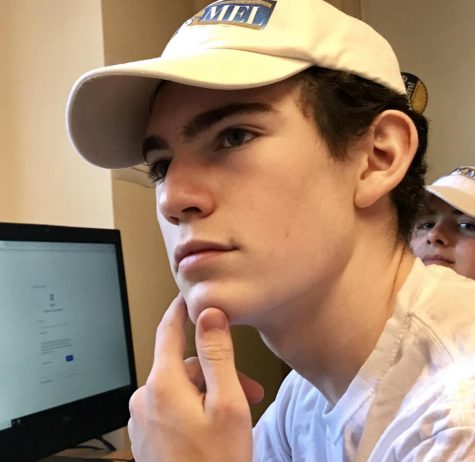 Ben Glickman is a senior and joined
The Pel Mel
in the fall of 2016 when he was a sophomore, advancing up the ranks from staff writer to Editorial Director to Editor-in-Chief. He joined the school newspaper because he thought that it would be enjoyable and interesting.
Ben said, 
"I've always read the newspaper and wanted to write for it."
Besides the newspaper, Ben is involved in many other activities such as Model UN, Science Olympiad, and Forensic Speech.
People that motivate Ben to be the passionate writer he is are journalists Carl Bernstein and Bob Woodward.
Ben will continue to be dedicated and display his hard work in The Pel Mel.
Ben Glickman, Senior, Editor-in-Chief
Jun 27, 2019

The Ben Commandments

(Story)

Apr 30, 2019

News Update: Cell Phone Tower Across From Middle and High School Buildings is Discontinued

(Story)

Apr 25, 2019

The Ben Commandments

(Story)

Apr 25, 2019

Pelham Bands Perform Cinematic Hits During Fundraising Concert

(Story)

Feb 11, 2019

Bands from High School and Middle School Hold Fundraiser February 27

(Story)

Jan 24, 2019

The Ben Commandments: Humorous Advice You Never Really Asked For

(Story)

Nov 27, 2018

POINT/COUNTERPOINT: How Early is TOO Early for Christmas Spirit?

(Story)

Nov 27, 2018

The Ben Commandments

(Story)

Nov 27, 2018

Possible Pelham Cell Phone Tower Gets Poor Reception by Community

(Story)

Oct 22, 2018

The Ben Commandments

(Story)

Oct 22, 2018

Sebalos Takes Over as IT Director

(Story)

Oct 31, 2017

District Welcomes IT Director Catania

(Media)