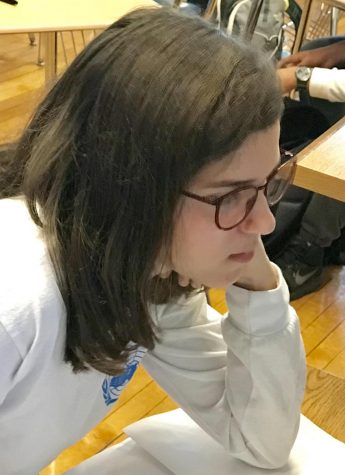 Vibrant, happy Bernadette Russo is passionate about writing ... and fish ... the latter being a trait she inherited from her father during their snorkeling excursions in the Bahamas. In her childhood, Bernadette had a large shark tank in her room, and she is currently in the process of getting another one for her multitude of pet fish.
Writing has always been a hobby of Bernadette's, and she likes to compose poetry and create short stories in her free time. She joined
The Pel Mel
as a sophomore because she wanted to learn a new style of writing, something she quickly picked up in her position as News Editor. In her junior year, Bernadette looks forward to Homecoming and the Olympics, along with the school spirit they bring. She also plans to continue participating in multiple extracurricular activities such as MUN and Pelham Eliminates Plastic, the student-run environmental awareness group.
Bernadette Russo, Junior, Associate Editor-in-Chief
Jun 26, 2019

Members of Class of 2019 Commended at Senior Awards

(Story)

Apr 24, 2019

EPOP: Senior Michael Salama Starts His Own Educational YouTube Channel

(Story)

Jan 24, 2019

OP-ED: New Year, Old Me

(Story)

Nov 28, 2018

CRITICS' CORNER: Book Review – The Hate U Give by Angie Thomas

(Story)