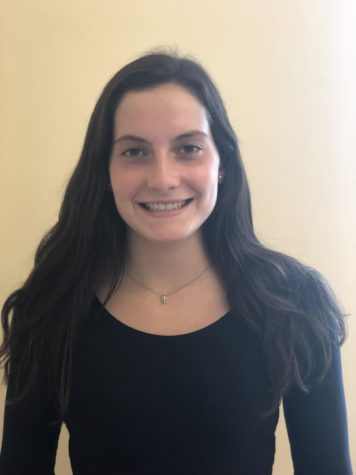 This will be senior Maria Comerford's third year working on
The Pel Mel
. Comerford first joined the newspaper staff because of her passion for writing. She most loves covering news articles, appreciating their importance and relevance. Aside from being a journalist, Comerford is also a three-sport varsity athlete, playing soccer, basketball and lacrosse.
"My favorite sport is whichever one I'm playing at that moment," said Comerford.
Not only is she talented with a pencil and a ball, Comerford is also a skilled singer and pianist.
Looking forward to the year ahead, Comerford said, "I hope that our newspaper will continue to cover really interesting topics, with the fewest amount of errors possible."
Maria Comerford, News Editor, Senior
Jun 05, 2020

Senior Varsity Athletes Honored in Social Distance Style

(Story/Media)

Apr 21, 2020
Jan 29, 2020

Editorial of the Staff: BOE Decision is a fumble

(Media)

Dec 28, 2019

Coach Pitrulle Celebrates 200 Wins

(Story)

Dec 10, 2019

Jazz Band Raises Money for Program

(Story)

Oct 07, 2019

New Coach Campbell Fee is a Score for PGVS

(Media)

Oct 30, 2019

Athlete of the Issue

(Story)

Oct 20, 2019

Athlete of the Issue

(Story)

Sep 30, 2019

In Loving Memory of Mr. Roksvold

(Story)

Sep 15, 2019

Pelican Athletes Leave the Nest:

(Story)

Sep 07, 2019

Pelican Athletes Leave the Nest

(Story)

May 06, 2019

SPRING PREVIEW: Rugby

(Story)

Apr 25, 2019

Class of 2019 — The "Class of the Century" — Holds Cent-sational Talent Show

(Story)

Nov 27, 2018

B.R.I.D.G.E. Academy Celebrates Thanksgiving

(Media)

Oct 26, 2018

Pelham Welcomes New Clubs: Operation Smile Club

(Media)

Oct 26, 2018

Pelham Field Hockey Takes League Title

(Story)

Oct 22, 2018

All's Fair: PMHS Holds Annual Club Fair

(Story)

Oct 22, 2018

Pelham Field Hockey takes League Title

(Story)

Jun 22, 2018

Pelicans on the Wing!

(Story)

May 31, 2018

Girls College Recruiting Rules Change

(Story)

May 17, 2018

Mrs. Ricci Retires After 25 Years

(Story)

Mar 16, 2018

The One Where the Seniors Have a Talent Show

(Story)

Jan 19, 2018

EPOP – Exciting People of Pelham: Dancing Duo

(Story)

Nov 30, 2017

Point/Counterpoint: Rethinking Thanksgiving

(Story)

Oct 31, 2017

Field Hockey Team Gets New Coach

(Story)