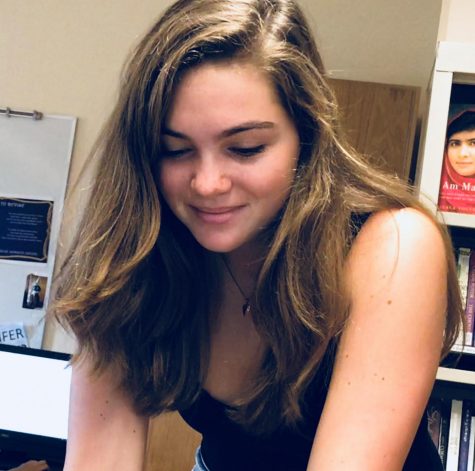 Steph Munn, junior, is a new addition to The Pel Mel staff in 2018. Her love of words stems from writing stories in English class, and she is excited to tackle the application of writing to the real world.
Outside of school, she enjoys being with friends and riding horses. As a competitive rider, she is on the riding team at Twin Lakes Farm in Westchester County and spends a lot of her time there, weekly.
Traveling is a common activity in Steph's life, and her favorite place to return to and spend time in is Spain. However, the most exciting place Steph has ever been to is Hawaii, where she enrolled in a summer camp and surfed the clean, blue waters of The Big Island.
Before her life as a Pelican, Steph was born and grew up in Moscow, Russia until her freshman year of high school, but has adjusted well to Pelham. She is excited to see what is to come this year as a member of the staff.
Steph Munn, Junior, Managing Editor
Jun 27, 2019

EPOP: Exciting People of Pelham

(Story)

Apr 30, 2019

PMHS Students & Alum Form Venture Scouts of Pelham

(Story)

Apr 25, 2019

Pelicans Join International Walkout for Global Warming Awareness

(Story)

Apr 23, 2019

When Policy Puts You in Bad Company

(Story)

Mar 05, 2019

Ways to Make Money as a Teenager

(Story)

Nov 28, 2018

EPOP — Exciting People of Pelham: Julia Corso — A Model of Excellence

(Story)

Oct 22, 2018

OP ED: The Future of the #MeToo Movement in a Post-Kavanaugh Age

(Story)

Oct 22, 2018

Sophomore Davis Wins County-Wide Mural Design Competition

(Story)