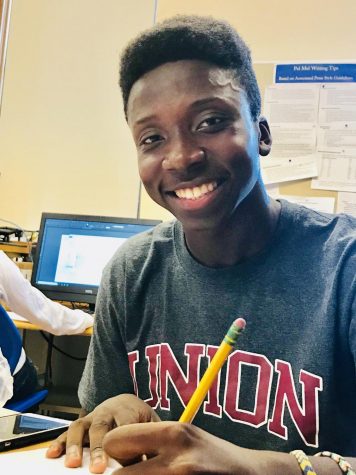 Senior Stephan Akichy has joined
The Pel Mel
late in his high school career. However, his interest in journalism and passion for sports have made him excited for his first year on the paper.
Akichy first considered joining
The Pel Mel
when he was approached by supervisor, Mr. Neil Schleifer. "He said I would be a good sports writer," said Akichy. "That got me invested in the idea of joining the school newspaper."
Akichy spends much of his free time training and playing for the varsity boys soccer team, of which he is a captain. "(My experience with soccer) can help me work with the sports group at the newspaper," said Akichy.
When asked what about journalism interests him most, Akichy paused. "The way that (journalists) intrigue the audience," he said. "I want to create that same intrigue."
Stephan Akichy, Senior, Associate Sports Editor
Jun 27, 2019

Rugby Team Victorious at States

(Story)

May 22, 2019

Unified Basketball Team Ends Season with a 4-1 Record

(Story)

May 06, 2019

ALS Dodgeball Tournament Raises $4k

(Story)

May 06, 2019

Pelham Athletes Commit to Play Collegiate Athletics: Harry Ravitz

(Story)

May 02, 2019

SPRING PREVIEW: Varsity Boys Tennis

(Story)

May 01, 2019

Pelham Athletes Commit to Play Collegiate Athletics: Jorge Chit-Sanchez

(Story)

Jan 25, 2019

Booster Club Cancels Sports Awards Ceremony Stipends Given to Teams for Individual Celebrations

(Story)

Nov 30, 2018

Pelham Athletes Commit to College Teams

(Story)

Oct 26, 2018

Athletes of the Issue

(Story)

Oct 26, 2018

Athletes of the Issue

(Story)