From Florida to Pelham, Students Call "BS" on Apathetic Politicians
Inspired by the activism of students from Marjory Stoneman Douglas High School, where 17 people were killed during the nation's most recent school shooting, Pelham students are taking action. As Emma Gonzalez, a senior at Marjory Stoneman Douglas High School told a crowd in Fort Lauderdale, "Politicians who sit in their gilded House and Senate seats funded by the NRA telling us nothing could have been done to prevent this, we call BS. They say tougher guns laws do not decrease gun violence. We call BS. They say a good guy with a gun stops a bad guy with a gun. We call BS. They say guns are just tools like knives and are as dangerous as cars. We call BS. They say no laws could have prevented the hundreds of senseless tragedies that have occurred. We call BS. That us kids don't know what we're talking about, that we're too young to understand how the government works. We call BS." Now, PMHS' students stand ready to join in that call.
The Social & Political Activism club (SPAC) organized a school-wide walk out at 10 am on Wednesday, March 14 to protest the lack of gun control. For 17 minutes, in honor of the 17 victims, students walked out of their classes and met in front of PMHS, to demonstrate their anger, passion, and support for the cause. Students called a list of senators who have not supported gun control bills since 1993.
Senior Melissa Altschiller, an active member of SPAC, and junior Leana Rutt, co-president, organized the protest at PMHS, and they are not alone. Over 2,000 other walk out events took place on March 14 across the country, even some in Ireland, Switzerland, Israel and Mexico.
Nearly every public high school in Westchester participated. Via a GroupMe chat, the student organizers from each school helped each other gain momentum in their respective schools.
"It's a student led movement, and we realize it is one of the first times we actually have a voice that matters. I feel that that's why we're empowered and why we're going for it," said Altschiller.
Rutt said, "We also want to be clear that this was not a protest against the school. We think the school has done everything as best as they possibly could."
This was PMHS's second protest about gun legislation. The first was sparked by junior Violet Massie-Vereker. Two days after the shooting, on February 16, Violet jumped into action, organizing an impromptu walk out during the beginning of the school day. Though only eight students showed up for that first event, the intentions of her activism created ripples, particularly through her grassroots movement, "#MeNext?," which Violet said originally began as a simple idea.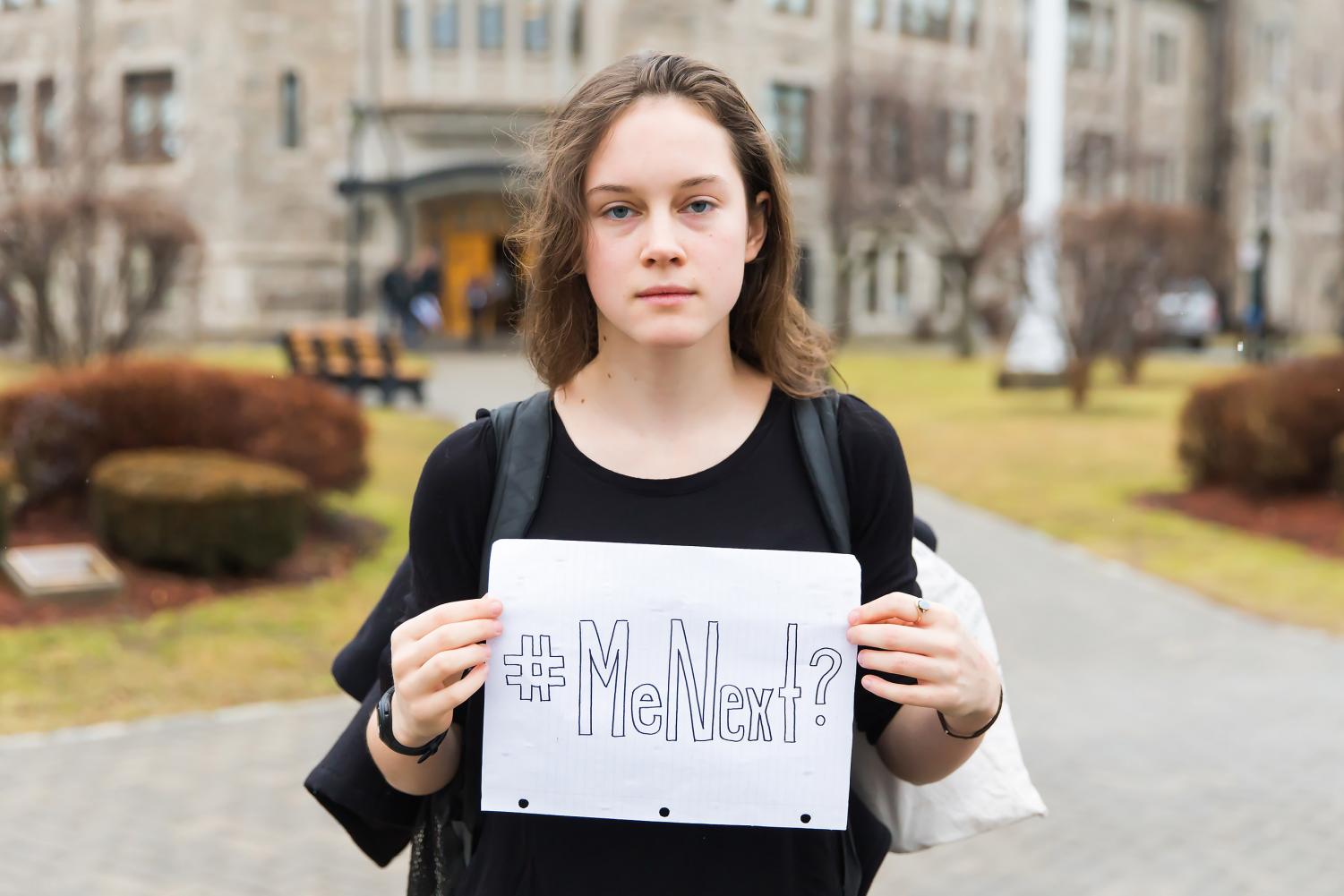 Violet explained that "#MeNext?" is "…a simple embodiment of how terrifying the culture of gun violence in America is. It isn't a direct call to action, but rather a means of spreading awareness and supporting movements like the #NeverAgain campaign of the Parkland students."
The impact of #MeNext? was widespread. The photo that Violet's mom posted of her holding the #MeNext? sign on Facebook had 8,000 shares within five hours, and Violet went on to be featured online in People magazine, a radio interview with NPR, and also on BBC news. She credits the growth of the movement to the shock people felt after the shooting in Parkland.
Violet stressed that it is vital for students in high school to be involved in the discussion over gun control as it is directly impactful on our lives.
"Once people start to see the lack of gun control as something that has the potential to directly affect them, then the threat becomes real, and people will be motivated to change," Violet said.
Some will want to particpate in the March 24, "March For Our Lives" in Washington or at sister events around the country, including one in New York City. Many Pelham students plan to attend the day. In addition to this march, a full day, nationwide school walkout has been planned for April 20, the 19th anniversary of the Columbine shooting.
"My hope is that this is not going to fizzle out, and that people don't forget about this issue," said Rutt.
Altschiller added, "We're not going to let it."