Sophomore Davis Wins County-Wide Mural Design Competition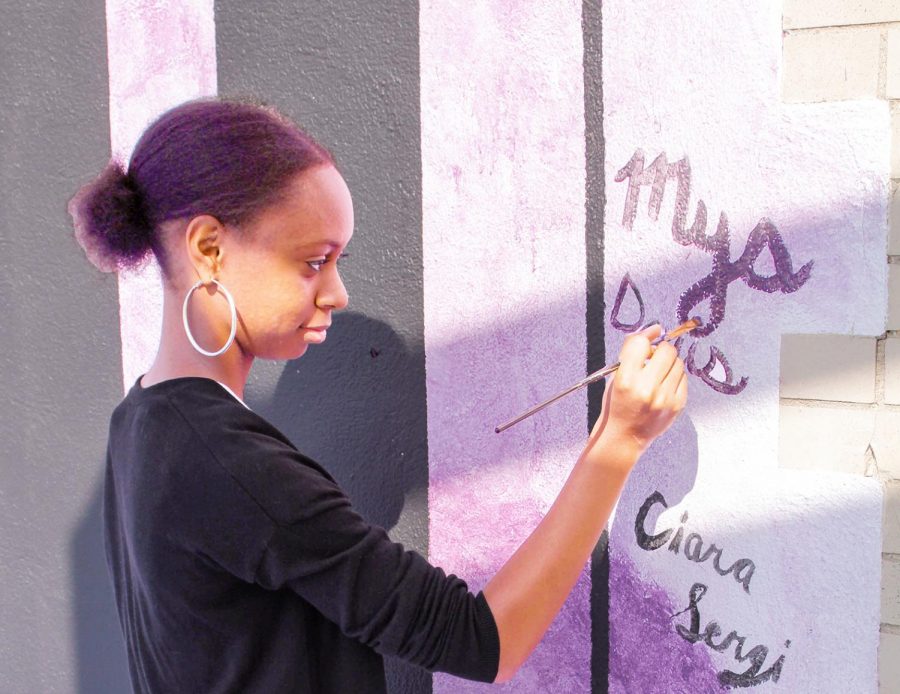 Steph Munn, Junior, Managing Editor
October 22, 2018
Sophomore Mya Davis made a defining mark as an artist when, on September 30, she was named winner of a county-wide mural design competition at the Music Conservatory of Westchester, an honor she shared with a student from White Plains. The Conservatory hosted the competition through a grant from the National Endowment for the Arts, and accepted entries by seventh to twelfth grade students from all over Westchester.
The goal was to create a template for a mural with the theme "Colors of Music." Art teacher Ms. Cherashore provided Mya with studio space and some advice, but every aspect of the design was Davis' own creation. Her submitted work was titled, "Rainbow Rhapsody."
"The bright colors represent diversity of people. The instruments I used are from all over the world… it shows everyone from all different cultural backgrounds coming together, united in one harmony, all with a common goal," Davis said.
The panel of judges at the event consisted of prominent supporters of the arts. Out of numerous entered contestants, Davis earned top scores, along with White Plains freshman Ciara Sergi. The judges could not decide on one design, so they announced both girls as winners.
Davis and Sergi each spent five days this summer in a collaborative workshop at the Conservatory. Professional mural painter Jonathan Villoch, who helped them blend their separate designs into one, ran the workshop. To combine their ideas, the girls drew different designs, then switched papers and added to each other's work until they were both satisfied with the final result.
"[Villoch] had a lot of different opinions on my work than a regular art teacher from school. It was actually a lot more helpful," Mya said.
After the collaboration, the composition was painted onto the outer wall of the Conservatory and unveiled on September 30. The crowd at the display included distinguished members of the community such as New York State Assembly member Amy Paulin, White Plains Mayor Thomas Roach, and the Music Conservatory's Executive Director Jean Newton.
The mural commemorates the arts, both musical and visual, and celebrates many cultures. It reflects Westchester's diverse community and serves as a reminder of the role music and art has in everyday life.