EPOP — Exciting People of Pelham: Julia Corso — A Model of Excellence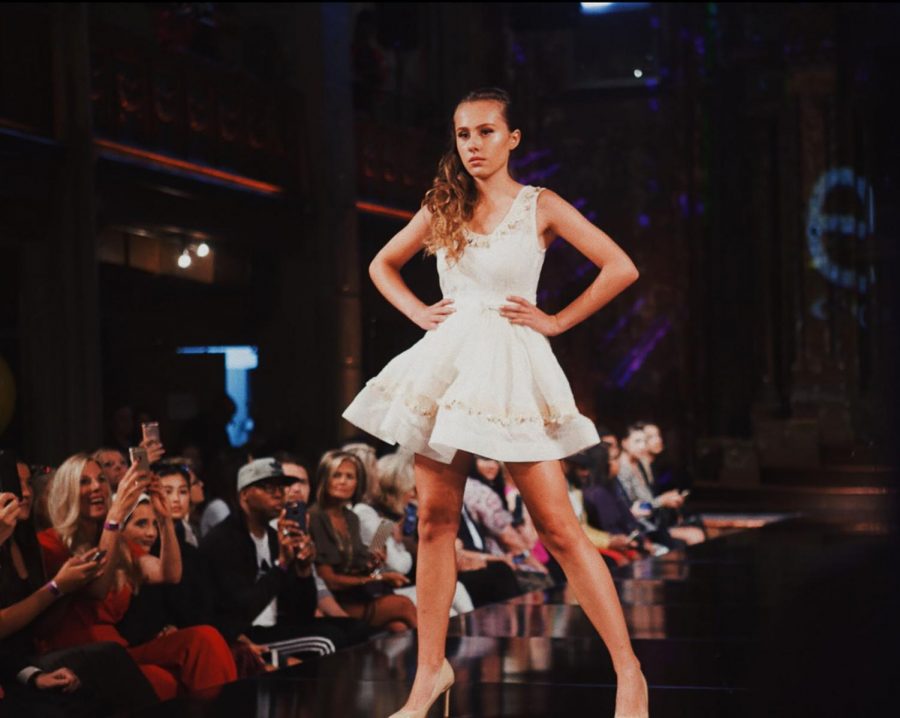 Steph Munn, Junior, Managing Editor
November 28, 2018
Fresh off the New York Fashion Week (NYFW) runway, sophomore Julia Corso joins the long list of accomplished individuals at PMHS. Throughout September of 2018, Julia modeled in the prestigious Art Heart Fashion Show for designer Marnita Miller's EFABB collection, showcased for Corey Woods Designer Sunglasses, and walked in the NY City Gala wearing a Shekhar Rahate piece. Opportunities like these are plentiful for full-time models, but Corso has to work hard to fit these events into her busy high school schedule.
Modeling has always been a huge part of Julia's life. Her public career started literally at birth! She made a TV appearance when she was the first child born in the hospital on Mother's Day of 2002. As a result, a news show recorded a segment on her and her mom. At seven years old Corso's résumé grew when a Vogue photographer snapped and published a shot of her street style during NYFW. Magazines soon started calling for more appearances of Julia and her mom due to their matching mother-daughter outfits during NYFW.
Behind the glitz and glamour of the fashion world exists a lot of hard work and sacrifices. Some teen models even choose to drop out of school or be homeschooled to pursue their dreams full time. Corso, however, wants to finish her education before jumping all-in.
In early October, Julia had to decide between school and fashion when new opportunities emerged. The aforementioned designer Marnita Miller was invited to showcase her designs in Hawaii, Dubai, and Tokyo, and asked Corso to be a house model for her. If Julia accepted, she would have to miss a significant amount of school in order to travel. With the support of her family, Corso chose to travel, vowing to keep up with her school work at the same time.
"It's so surreal. Everything is happening very fast," Corso said.
Traditionally, models are known for being extremely tall and slim, but the evolving industry is starting to embrace diversity amongst women. Therefore, Julia doesn't have any extreme nutritional regiments but tries to eat healthy and diets the week before a show. She also regularly goes to the gym in order to tone her muscles and lengthen her body, as height is essential for the runway.
"I feel like anyone can be a model…I think it's super important for body empowerment," Corso said.
She also mentions that because of the models' diverse backgrounds, everyone is generally supportive of each other. While castings can be competitive, the atmosphere at runway shows and photoshoots is friendly and cooperative, as everyone is trying to achieve the same thing.
"Modeling is a stepping stone for me to get into the industry… it's full of the most creative, nicest people I've ever met and I've learned so much from them," Corso said.
The industry appeals to Corso because of its openness to creativity and people of different walks of life. She is currently signed with MMG Model, Talent, and Celebrity Management, and, at some point in the future, she would like to open a fashion-based business and experience the flip-side of the industry.