Opening the DOOR to Creativity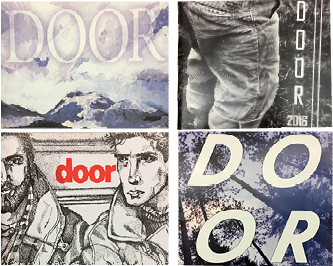 DOOR, PMHS' art and literary magazine, is one of the oldest running clubs. The discovery of past issues brought about a reflection of how the club has evolved over time and the age of the club itself. Issues were found dating back to 1976, making the club over 40 years old! Despite the magazine's long run, the club continues to innovate with new ideas.
"Over the years, DOOR has added color to its publication and the number of pages in our final magazine has almost doubled! We don't always get the variety of genres we are hoping for, but we are more than just poetry and photography. We want every student artist to submit whatever they've got: poetry, memoirs, short stories, flash fiction, comics, sketches, paintings and photography," said DOOR advisor, Mrs. Kiessling.
DOOR will host its annual Poetry Cafe this year in April. Poetry Cafe has been an annual event at PMHS for over 25 years. On this day, students can recite original poems or by works by other poets. As part of Poetry Cafe, DOOR sponsors a poetry and art competition for students to submit pieces of their own and receive prizes that include a reserved spot at poetry cafe and a publication in the magazine. Even if you do not win the competition, students can submit their work and get published in DOOR.
"My friends didn't know I liked to write", said senior Kim Rosell, "so having my short story in DOOR was a good way for me to share what I love with my friends… I felt a sense of pride and accomplishment after it was published because it was my first written work going into DOOR".
DOOR will publish the magazine this summer, and it can be pre-ordered at Poetry Café this year.