Pelham's Annual BIG READ Story All the Light We Cannot See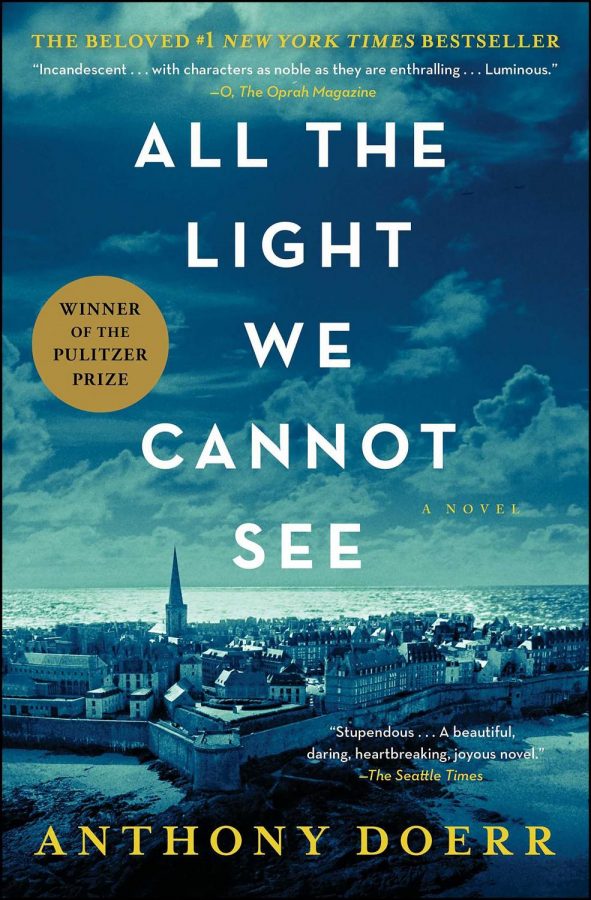 Alyssa Purcea, Sophomore, Staff Reporter
January 24, 2019
For weeks, images of eyes stared down from the walls. This mystery was part of the build-up leading to the Pelham Big Read 2018-19. Then, on December 7, the reason for the staring eyes was announced — the designated book for the event, which takes place from December through February, was All the Light We Cannot See. Written by Anthony Doerr, this work of historical fiction follows the lives of a blind French girl and a German boy whose paths cross during the brutality of the Second World War.
Pelham Big Read started out as a branch of the Community Based Read, with the goal being a group of people reading one novel. This would lead to games, contests, book club discussions about the themes, characters, and conflicts upon which the novel focuses. Pelham Big Read not only encourages the love for reading but places an emphasis on community building. This event is meant to bring people together through the shared experience of reading. Ms. Wasnetsky, a tenth grade English teacher at PMHS, played a vital role in planning the event.
"The hope is that the PMHS Big Read gets people reading things they wouldn't necessarily read on their own. Big Reads encourage people to talk about books and share their experiences. This gives you a support system to do the reading while also providing different ways of looking at a piece of literature," Ms. Wasnetsky said. Pelham Big Read gets students to come together and bond over the book by encouraging every student at Pelham Memorial to participate in the event.
This is the second year the organization is holding the event. The Wonderful Wizard Of Oz was last year's book of choice. One of the events in last year's Big Read was a creative writing contest where students were challenged with coming up with an original piece of writing based on the book's themes. This year, students are tasked with a similar opportunity.
Senior Sam Rodd was one of the winners from last year's competition, and he encourages that students participate in this year's competition as well.
"It's important to participate because it encourages kids to write. It's an important skill to know, whether academically or creatively," Rodd said.
Pelham Big Read wants students to see that reading and writing can be fun, while also providing a good learning experience for many students. The event is designed to promote recreational reading and challenge the minds of students to write creatively.
"Reading isn't only connected to the classroom," said Ms. Wasnetsky. "And we want to shine a light on the fact that there is a love of reading — that reading is a pastime and that reading is enjoyable."