Students for Refugees Club Holds Event to Raise Awareness for Refugee Crisis
Refugee Simulation: "Walk a Mile in My Shoes"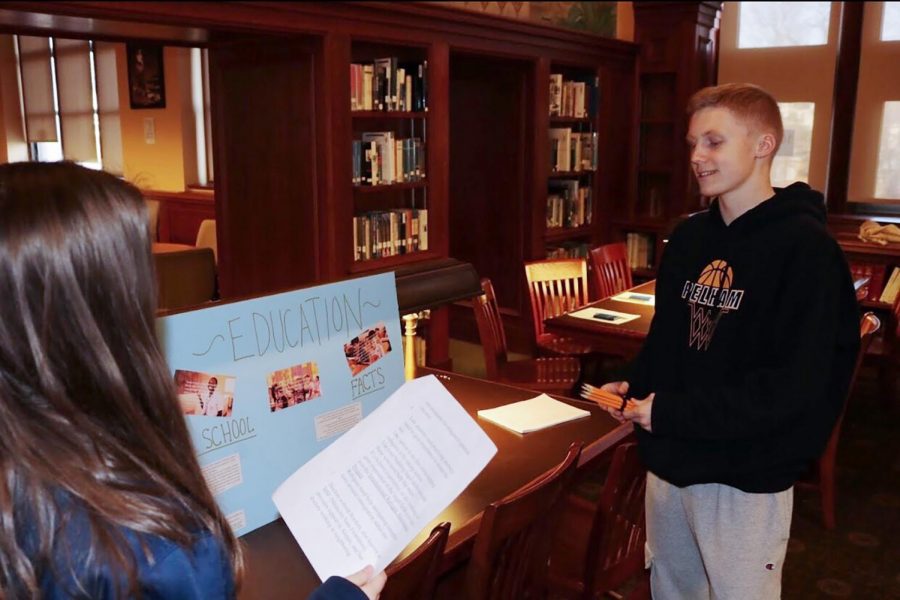 The PMHS Students for Refugees (SFR) club aimed to raise awareness for the refugee crisis that has affected millions worldwide. On March 19, the SFR club held their "walk a mile a my shoes" program in the library. This program was designed to educate students about the hardships faced by displaced people across the world.
Upon arrival, students were given an identity card that detailed a potential situation that a refugee could potentially face. For one hour, students were tasked with trying to live vicariously through their assigned refugee scenarios. Students progressed through different stations designed to illuminate the problems with different aspects of refugee life, including food and water, shelter, education, and border control.
Each station had members of the club who would give a brief presentation on the varying topics. After the participants had visited each station, there was a final advocacy station that informed students about different programs and organizations that fight for the rights of refugees. Afterwards, participants were able to donate money to help fund these organization and raised nearly $100.
"In today's polarized America, people seem to forget that every governmental decision has an impact on individuals around the world," SFR president and junior Steph Munn said. "I hope to start a discussion on immigrants and refugees in order to bring both sides of the aisle together to focus on what's really important: human rights and the prosperity of our society."
A refugee is defined as a person who has been forced to leave their place of residence to escape war, persecution, or natural disasters. According to the the United Nations, there are around 25 million refugees and 68 million people displaced across the globe. While there are resources funded internationally to help these people, the provisions provided are not always proficient. Many camps designated for refugees lack basic human needs like reliable water and clean food. Many camps are also reported to have little to no electricity, and diseases such as tuberculosis and cholera. Women in these camps are plagued with rampant sexual assault and abuse as well.
"After learning about the hardships that refugees across the world have to face every day, I felt like I had to take action," sophomore Andrew Talamas said.
The SFR club will be planning more advocacy and fundraising programs in the future.