Three Honored as National Merit Semifinalists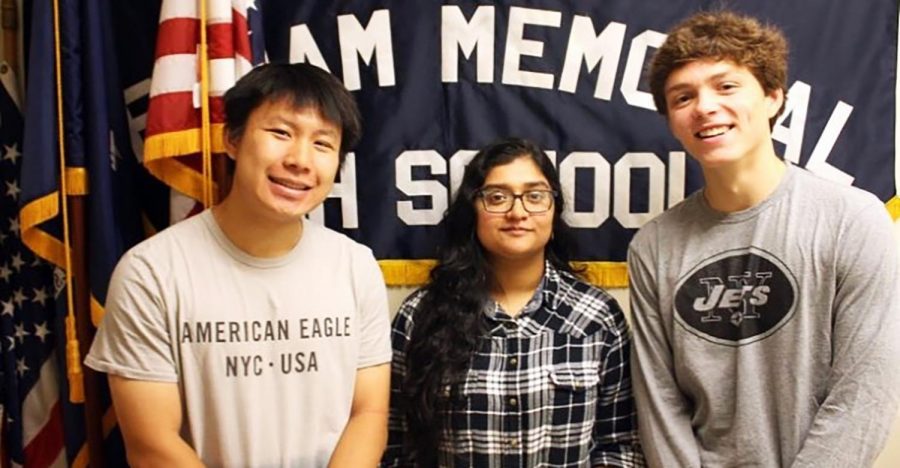 Philip Dulock, Senior, Staff Reporter
October 5, 2019
The National Merit Scholarship Program is a United States academic scholarship competition for recognition and university scholarships administered by the National Merit Scholarship Corporation. Each year, eligible high school juniors take an October PSAT/NMSQT. Every year, PMHS has at least one student qualify as a National Merit Scholar Semifinalist based on their test score, and this year was no exception. Seniors Lance Brady, Asher Lal, and Peter Wei won a spot as semifinalists.
Wei said, "I was not really expecting to achieve a semifinalist position back in junior year. I thought that I had a chance, but not a great one based on my practice test scores at that point."
Before even taking the PSAT, Lance Brady believed he had adequately prepared.
Brady said, "After taking the test, I knew I had a shot, especially because I was simultaneously studying for the ACT. I had known about the award, and it was really my only motivation to try on the PSAT." …..This honor means a lot to the three of them. Lal said, "I was excited, shocked! I wasn't really expecting it but when Mrs. Clark pulled me aside, I was just overall really happy."
The program's goal is to promote a wider and deeper respect for learning, where exceptionally talented individuals have the opportunity to be recognized for their hard work and dedication. The program aims to shine a spotlight on brilliant students and encourage the pursuit of academic excellence at all levels of education.