Pel Mel Critics' Corner
Theater Review: ALMOST, MAINE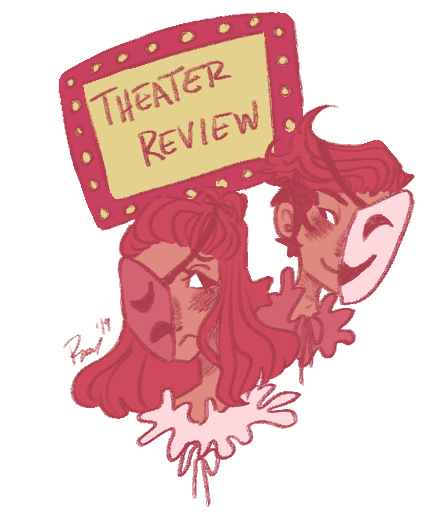 Nine intertwining love stories set beneath the hypnotic glow of the northern lights — Sock 'n' Buskin's fall production of Almost, Maine, premiered on November 21 and ran through the 24th in the PMHS auditorium. Sock 'n' Buskin's production of playwright John Cariani's, Almost, Maine made audiences laugh, cry, and feel just about every emotion in between.
The nine stories, all set in this fictional yet somehow magical northern town, were all loosely connected to one another. To the average spectator, that's all that the characters in Almost, Maine had in common, except for their shared desire to find love. These separate vignettes about finding, keeping and losing love showed that love can come unexpectedly, in many forms, and can be expressed in more ways than one. Above all, the play left me with the feeling that love, as crazy and twisted as it may be, is extremely valuable.
Almost, Maine left me feeling so strongly because of the commitment of the actors to their roles, and most importantly, how they conveyed their relationships. Glory, played by senior Emma McNulty, finds herself on the lawn of Easton (senior Brian McFarland) with a literal broken heart which he helps mend. Junior Soren Bushong and sophomore Katie Scott, discovered that sometimes best friends can see the beauty and the heart in the other that they themselves may have overlooked. Seniors Meredith Heller and Jack Finegan learned that love is intangible and cannot be measured by the bushel. Buddies Randy and Chad (sophomore Oliver Tam and junior Jack Denison) learned that when we fall in love, sometimes the fall is pretty hard. In each scene, the acting was sharp, witty, and pitch-perfect, truly displaying the dedication and time that directors Mr. Beck and Mr. Schleifer put into shaping the production to have the impactful outcome it did.
McFarland said, "It was a really interesting experience because there is no play out there quite like Almost, Maine, and being in one short scene allows for immense development that made this production the masterpiece it was."
It was clear that the audience, not just myself, was engaged by Almost, Maine. After every joke, the audience erupted into laughter. Every heartbreak and proposal was felt throughout the auditorium complemented by a simple, yet beautiful snow-dusted set and under the ethereal projected glow of the northern lights. For one of the first times, the stage was elevated for full audience immersion. The auditorium was no longer Pelham, but was the charming snowy Maine town of Almost: a perfect atmosphere for right before the holidays!
After months of rehearsal and fine-tuning, Almost, Maine got the positive reception that it deserved. My applause goes to the entire Sock 'n' Buskin crew–from the actors to the directors to the crew– for putting on a truly magical and thought-provoking production.