Three PMHS Seniors Honored as National Merit Finalists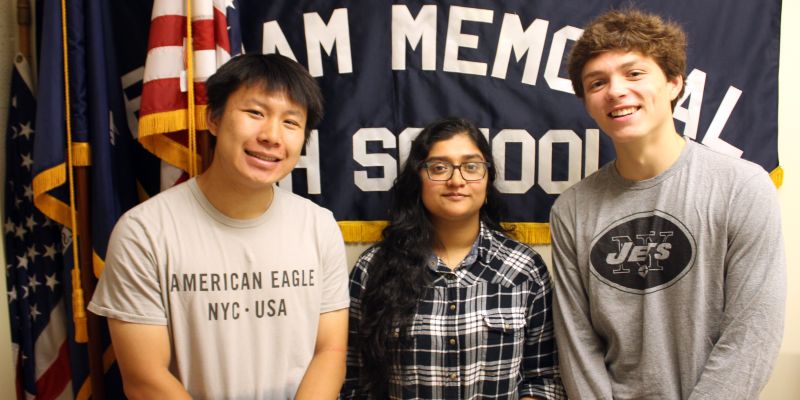 Three distinguished PMHS seniors, Lance Brady, Asher Lal, and Peter Wei, were selected as finalists in the 2020 National Merit Scholarship Program competition after previously placing as semifinalists at the start of the school year.  
The National Merit Scholarship Program is a United States academic scholarship competition for recognition and university scholarships administered by the National Merit Scholarship Corporation. Brady, Lal, and Wei were within the top one percent of students taking placement tests and met the following qualifications:
Maintenance of  very high academic performance in grades 9 through 12 and in any college course work taken.

Endorsement for Finalist standing and recommendation for National Merit Scholarship by their high school principal.

SAT or ACT scores comparable to their semifinalist PSAT score.
"Being a national merit finalist is a very proud honor for me. I never truly thought that I would be one," Peter Wei said.
The three students, who showed outstanding academic talent, entered the competition along with more than one million students nationwide by taking the Preliminary SAT/National Merit Scholarship Qualifying Test as juniors in 2019. Students with the highest scores were chosen to advance to the semifinals and required to submit a detailed scholarship application, demonstrate an outstanding academic record, write an essay and earn SAT scores that confirmed their high performance on the qualifying test. The semifinalist pool was then narrowed down to approximately 15,000 finalists, with Brady, Lal, and Wei all being selected. Despite the intense selection process and hard work, the students still remained humble and excited. 
"I was pretty surprised to move onto the next stage in the competition. I hadn't been expecting much, so it was exciting to get the letter telling me that I was a finalist. It's been cool to be a part of a nationwide contest, knowing that I'm competing against some of the very smartest kids from all over the country," Lance Brady said. 
More than half of those named as National Merit finalists are awarded scholarships, which are announced on a rolling basis between March and June of the academic year.