Long Lines at COVID Testing Leaves Students Frustrated
Long Wait Lines For Getting Tested Had Students Standing For Sometimes More Than Two Hours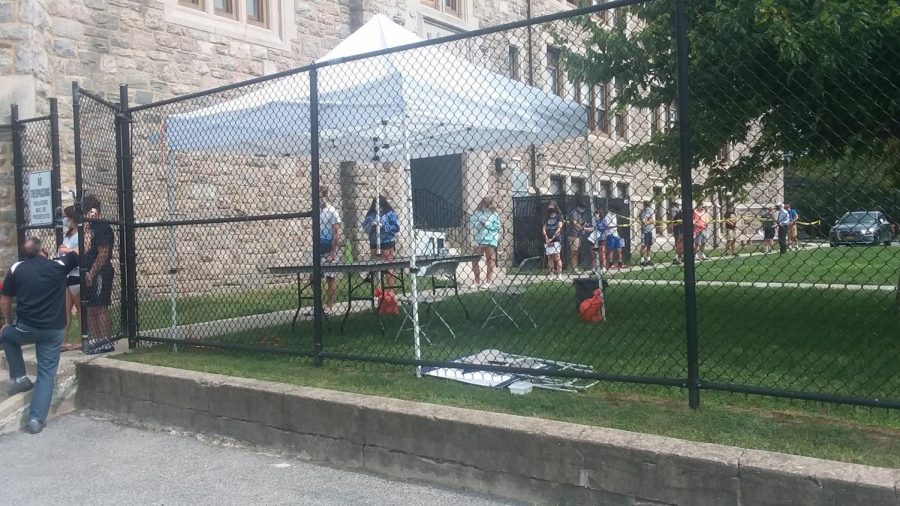 Following the discovery of parties at the Woods on September 7 and 8, the high school made the sudden announcement that due to safety concerns, the start of in-person learning was to be delayed until the school could confirm that there wasn't an outbreak of COVID-19 among students. In order to facilitate this, the school mandated COVID-19 testing for students if they wanted to participate in hybrid learning without having to go through a 14-day quarantine period. Many students jumped at the offer which was advertised to be safe and expedient. However, many students were irate when they ended up having to wait, in some cases, for over two hours to be tested. 
In an informative email sent out by the high school on the details of the testing process, the school claimed that "the entire testing process should be completed in less than 10 minutes per student." This quick process would be a saving grace for many students who had tight schedules on either of the available testing dates. Yet when students arrived on Monday they were greeted with lines that hardly moved, and which wrapped around the main entrance of the high school all the way onto the sidewalk.
"It was obvious [testing] was pretty rushed to get kids in school as soon as possible, and it just seemed a bit disorganized… I feel like a bit more time mapping everything out could've cut down on the 2-hour wait that many people, including myself, endured." senior Juan Carlos Matos said.
The school attributes the long wait times to the check-in process for students, conducted by the Westchester Medical Center. In order to check-in, students needed a photo ID, their insurance card, and their parental consent form. If any of these were missing there were serious delays in the processing of that student. Luckily after the worst of these delays hit on Monday, the school was able to remedy the situation for the following days.
When asked if the school was looking into additional testing, PMHS principal Mark Berkowitz said that the school was not and that they maintain the hope that  students will follow the rules outlined in the district's public health agreement.