PMHS Teams: Playing When the Stands Are Empty
When COVID Limits Fans From Attending, How Does It Affect Athletic Performance?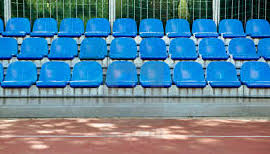 AJ Vermes, Staff writer, Senior
November 30, 2020
and Amina Pucci, Staff Writer, Sophomore
Although students have returned to playing low risk sports such as soccer, field hockey, tennis, and cross-country, it is still just not the same. Something is missing. The fans!  Stands are almost empty as audiences are restricted, which not only causes students to miss out on the school spirit of sporting events, but also influences our Pelham athletes. Student athletes from all grades have felt a shift in the atmosphere as they return to the fields. As of right now, Governor Andrew Cuomo has said that winter sports practices are being delayed to January 4. With that being said, fans allowed at future sporting events are expected to be at the most, two parents allowed per player, however, there is a chance no fans will be allowed at all due to the higher risk in the future. 
Student-athletes throughout PMHS have expressed their opinions on the current Section One rules:
The captain of the varsity girls' soccer team, senior, Emma Carew has been on the team for three years. She said, "Fans not being allowed at sporting events has definitely affected all sports teams. Having a crowd cheer us on, especially at the end of the game when we are tired, helps the team push through and finish strong. It also just makes it a better place knowing there are people supporting us." 
Varsity basketball player, James Rebholz, a senior, agrees. Rebholz said, "It's very unfortunate considering the fans were one of the best parts about playing the game. I would be glad to have two fans per player because any amount is better than none at all."
With COVID cases on the rise, the whole situation is still fluctuating. but for veteran players, the change is palpable.
Junior Eileen Mazzaro, the captain of the varsity field hockey team said, "The game is more exciting when you're playing for a crowd so it's definitely different now that we can't have students there."
In athletics, it's not always the score or the trophy that is the most memorable, but the interaction between players and fans.
As Emma Crotty, a sophomore on the varsity field hockey team says, "One of the best things about being an athlete at Pelham is the amount of spirit our school has, and without fans, games definitely don't feel the same. My team has tried to make the best with what we are given but playing without a crowd, even if normally it would be only a few other students, just doesn't feel right."
Pelham athlete Sophomore Luke Green reports, "Although most athletes play for the love of the game, there is no denying fans help get the adrenaline flowing. Fans always improve the atmosphere and the overall experience of sports. That being said, I just want to be able to play football and hockey, which NY state has banned, while other sports continue. I have been playing Pelham Cross-country, South Westchester Blackhawks hockey, and Pelham baseball. It has been much different than my previous seasons played due to certain restrictions. However,  I am super happy to be playing, and that's all that matters to me!"
Across all teams, it has been described that although overall it is great to be back in sports again, it is definitely not the same and the audience has a big role in the game, and empty stands leave sports games spiritless.