Lifting Up Westchester Annual Essay Contest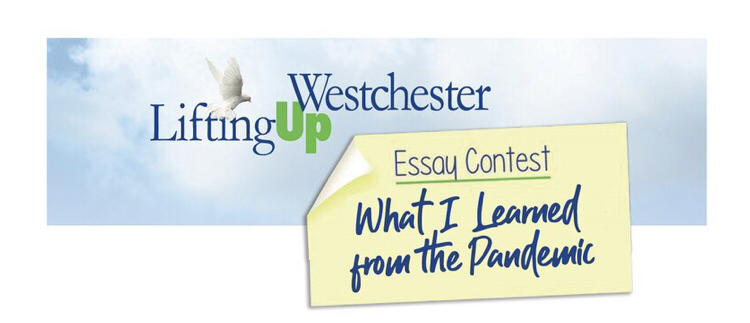 Lifting Up Westchester is hosting an essay contest on a timely topic for the current age.  The non-profit is missioned to help struggling county residents support themselves and have been sponsoring the competition for the last four years.  With every passing challenge, the youth of Westchester are given a chance to share their voice and views.   
The contest is open to any Westchester student in grades seven through twelve.  This year's topic is "What I Learned from the Pandemic" with two possible prompts falling under the criteria.  Topic A, "Effects of the pandemic" and Topic B, "Can anything good come out of the pandemic?".  A detailed outline of requirements is on Lifting up Westchester's website, with points being awarded for each fulfilled guideline. To get full credit participants must relate essays back to the work of the contest funders and the group's response to COVID-19.
CEO of Lifting Up Westchester, Anahatia Kotval said, "This year's essay contest topic could not be more fitting.  We have seen how quickly and drastically millions of lives have changed as a result of the pandemic; this topic offers students an opportunity to reflect meaningfully on their experiences and chart a path forward that is centered around community and inclusivity."
Thirty judges, with a variety of experience and backgrounds will be choosing this year's winner.  During 2019's competition, centered around the importance of hope, 130 submissions were collected.  This year the organization hopes there will be even more entries.  The three best essays will receive cash prizes ranging from 100 to 500 dollars.  To be eligible for judging, essays must be uploaded to the designated area on the website by January 29 at 5 pm.  
Lifting Up Westchester founded this competition in honor of the late Beth Massey Rubens who was an amazing sister, devoted teacher, lover of literature, and a giving, gracious soul. Those she left behind including her three sisters, husband, and three children wanted to honor her memory in a way she herself would appreciate and approve of.   
Hannah Massey Nelson, Beth's loving sister said, "There are many ways to keep someone's memory alive and we chose to create an essay contest as a testament to her gifts as a teacher, tutor, and her interest in reading, writing, and language,  Though I do not serve as a judge I read all of the submissions and as I think about the students perspective I have a little visit with my sister thinking about what she would have to say about their writing and point of view."  Mrs. Massey Nelson is a member of Lifting Up Westchester's board of directors, and organizer of donations for the group's tutoring and mentoring programs.  
Be sure to submit an entry for a chance to win.