Devonta Smith Wins the Heisman Trophy
Fourth Wide Receiver to Be Awarded the Heisman Trophy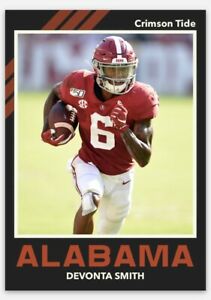 Before the beginning of the 2020-2021 NCAA college football season only three wide receivers have won the prestigious Heisman trophy. The award is presented to the best player in the college football season and usually is won by a quarterback or at times a running back. The last time a wide receiver won this award was by Desmond Howard in 1991. This season, Alabama senior wide receiver Devonta Smith won the award due to his historic and dominant season. 
Smith finished the season with 117 receptions, 1856 receiving yards, and 23 receiving touchdowns. He led the NCAA in all of these stats and is now ranked in the top ten all time in each of them. Alabama would go on to win the national championship on January 11 with Smith playing a major role in the 52-24 win over Ohio State. Smith finished the game with 12 receptions for 215 yards and 3 touchdowns. What sets him apart is that all of these stats are from just the first half of the game as Smith didn't play the second half due to a hand injury. Smith's 12 receptions broke the record for the most in a national championship game, and he  accomplished that without playing the second half of the game. 
The other three finalists for the Heisman trophy were, Mac Jones (Alabama's Quarterback), Kyle Trask (Florida's Quarterback), and Trevor Lawrence (Clemson's Quarterback). Smith finished with 447 first place votes out of 870 casted beating the next best finisher Trevor Lawrence by over 200 votes. In his award speech, Smith gave wise and emotional advice to the younger generation of football players. He spoke to all of the smaller and weaker kids playing football, telling them that they shouldn't stop working hard no matter what anyone says about their size. Smith himself had to struggle with this growing up and still does to this day as he stands a 6'1 feet tall and a mere 175 pounds. Many critics say that he is too weak to be a good NFL player and they label him as a bust. Despite the fact that he weighs 25 pounds less than the average NFL wide receiver, he makes up for it with his speed and excellent route running ability. Smith is projected to be a top ten draft pick in the upcoming 2021 NFL draft.