Critics' Corner Film Review: Late Night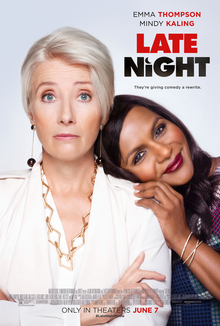 There are some movies that everyone seems to miss. Whether it's a lack of press or less than optimal reviews, some great films slip under the radar of the average moviegoer. One such film is the comedy-drama Late Night, starring Mindy Kaling and Emma Thompson. Released via Amazon Prime in August of 2019, Late Night is a heartfelt and funny take on the late-night comedy scene that also makes valuable commentary on the ever-changing social scene in the world of television.
Late Night tells the story of Katherine Newbury (played by Thompson), a struggling late-night host who's declining ratings show that she might be past her prime. When new writer Molly Patel, played by Kaling, joins the writing staff of the show, she immediately starts making waves as the only female, minority writer. Together, the writing staff, Patel, and Newbury start to turn the show around, despite some major obstacles.
Overall, Late Night is a hilarious and well-written film. As screenwriter, Kaling brings her biting wit, known from shows like The Office and The Mindy Project, to the film, as well as her superb acting skills. Emma Thompson also delivers a spectacular performance as Katherine Newbury, acting convincingly in a way that makes the audience emphasize with her greatly.
Late Night also makes some extremely important commentary on women, particularly aging women, in television. Despite Newbury's smart sense of humour and charisma, her network makes plans to replace her with Daniel Tennant, a younger male comedian with a crude and misogynistic sense of humour. Unfortunately, this trend is commonly seen in the world of media, with female actors being shunned from many roles once they have reached a certain age.
Late Night is a well done comedy-drama film that will have you laughing, crying, and everything in between. If you're someone who loves shows like 30 Rock and The Office, Late Night is the movie for you.