OP-ED: Biden's Policies Set America Forward in the Fight Against Climate Change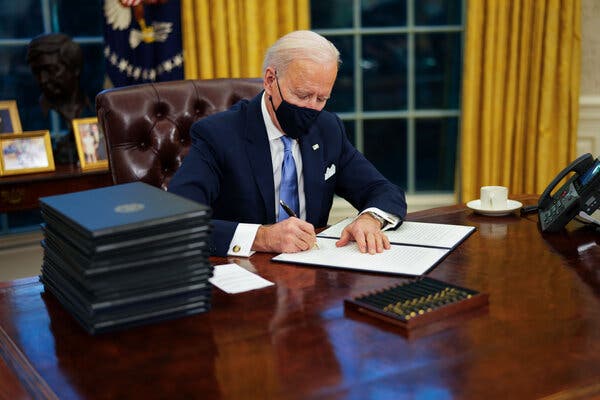 The environment as of right now is doomed with climate change continuing to rapidly increase, wildlife perishing, the ozone layer still severely damaged, an increase in greenhouse gases, and more. Not only does this hurt the planet, but is scientifically proven to also harm the health and wellbeing of people.  In his time in office, President Trump withdrew all of the past US actions to protect the environment, because he claims climate change is a fabrication. President Biden however calls climate change an "existential threat" and prioritizes taking care of it. Steps to hinder destruction in the environment are urgent and critical to restoring its former health since global average temperatures are record-breakingly high. The last six years were the hottest ever recorded, with 2020 and 2016 being among the hottest. Atmospheric carbon dioxide concentrations in 2020 reached alarming levels, never before seen in millions of years. In hopes of limiting pollution and harm to our environment, Biden has outlined large plans to help save the environment, and a list of reforms to be made to achieve this goal. His plan is the most ambitious environmental plan ever in US history with a $2 trillion investment in clean energy to create carbon-free electricity by 2035. President Biden started working to make this goal, among others, a reality hours after the inauguration.
In his first week, Biden has signed more than three dozen executive orders, more than any president has in this period of time. Experts say if he continues at this rate, Joe Biden may be able to have a significant impact on the cleanliness of the environment. 
Biden said, "We've already waited too long to deal with this climate crisis and we can't wait any longer." He also added, "Just like we need a unified national response to Covid-19, we desperately need a unified national response to the climate crisis because there is a climate crisis." 
He has aimed to utilize his new responsibility and power to make climate change a central concern and priority of the government and people of the country. That being said, unfortunately, future presidents can undo all of Biden's actions regarding healing the environment.
On January 20th, 2021, just hours after he was sworn in, Joe Biden recommitted the United States to the Paris Climate Agreement, after the US left last year per the orders of President Donald Trump. The Paris Climate Agreement is an agreement made by countries around the globe to prevent perilous climate change by limiting global warming to under 2°C but not passing 1.5°C, as well as to enhance and support countries' skills to deal with the repercussions of climate change. According to experts, rejoining this agreement is an essential step in reversing all Trump has undone for the environment in the past four years. 
"It sends a very important signal to the rest of the world on one of the biggest problems we face," said John Holdren, a professor of environmental science and policy at Harvard University who served as director of the White House Office of Science and Technology Policy under President Barack Obama. "I think it is very important that the US demonstrates once again that it will take the global climate change challenge seriously."
On January twenty-seventh, President Biden signed a set of executive orders intended to prevent climate change by banning energy drilling on federal lands. By way of these orders, new oil and gas leases on public lands will freeze and offshore wind-produced energy will be doubled by 2030. The Department of the Interior is commanded by orders of  President Biden to halt the gas drilling and oil leases on federal lands and water "to the extent possible" in addition to producing a review of existing energy leases. Fossil fuel extractions on US public lands make up one-quarter of US Carbon emissions, emphasizing the importance and potential tremendous implications of Biden signing this bill.
These new orders, and those said to be signed in the near future, are the first steps in fulfilling Biden's goal of saving and healing the environment and go to better the lives of Americans.