PMHS Students Selected for 15th Annual StArt Regional High School Art Exhibition
Painter Edgar Degas once said, "Art is not what you see, but what you make others see." For three Pelham student-artists, the opportunity to affect others with their artistic vision just expanded to a broader audience. PMHS juniors Lin Huang and Ray Atlas, and senior Ella Burns were chosen to have their artwork displayed at the 15th Annual StArt 2021 Regional High School Art Exhibition. The competition showcased the work of 53 talented high schoolers representing 21 high schools from around the Westchester region. Usually, the exhibition is presented in the OSilas Gallery at Concordia College in Bronxville, New York, but this year, due to the pandemic, it is being displayed virtually on Issuu, an electronic publishing platform.
"I was happy. But not overly excited. Mainly because I feel like my art can be destined for more and, even though being chosen was an honor, I want to reach higher levels of success with my art," junior Lin Huang said when she found out her artwork had been chosen. Her piece is titled, "Forever Growing" and is acrylic on canvas, her signature medium.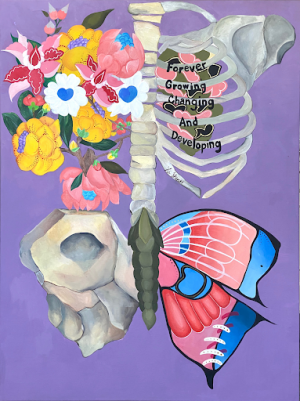 The StArt Exhibition was launched by the OSilas Gallery to offer high school art students the opportunity to showcase their work in a professional gallery and to improve their college qualifications and portfolios. In order to be included in the exhibition, the art faculty from each of the participating schools is invited to choose up to three artists to submit their pieces in any medium. Works range from photography to paintings to drawings to ceramics.
Senior Ella Burns' piece, Body Image was inspired by her struggles with body image issues and where they stemmed from. She used graphite as her medium because it allowed her to display her raw emotions through her art. The message of her piece is, "that no matter what your body looks like, it deserves to be treated with respect from yourself and others."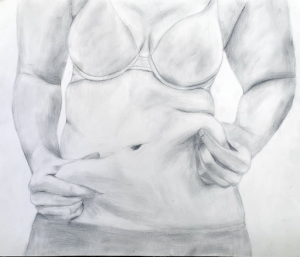 Junior Ray Atlas submitted an oil painting titled Brazilian Woman with Hibiscus' with a collage and gold leaf background. 
"How there's safety culture and tradition because it makes you part of something bigger. Culture creates similarities in behavior, emotions, and social norms in groups across the world. It's a huge part of how people perceive the world they live in. I've been wanting to get my art out there and enter in a lot more contests, so I was happy to get a start with everything going on in the world right now." Atlas said when asked about what her piece was about.