Modified Winter Sports Mean Abbreviated Season
Track and Swim Find Alternate Means to Compete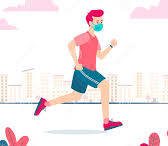 Throughout the last two months, New York has seen a rise in COVID-19 cases. Therefore, winter sport seasons  throughout all New York high schools waited for Cuomo and the The New York State Public High School Athletic Association to  release what would happen. Starting January 4, moderate-risk sports such as swimming and track were cleared to begin practicing. Though these seasons were able to kick off, practices and competitions have been modified to meet new guidelines.Teams have now been shifted into a virtual setting, a huge change for both the swim and track teams.
For the winter track team, which usually competes at indoor venues like The Armory, the only option is to compete outdoors following restrictions and rules. Even with outside alternatives, teams will still not be able to visit other schools and now are competing virtually. In addition, results may take days to be finalized. Each school will hold their events at their own fields and report times/scores to officials. There will no longer be 12 hour meets that take up most of a Sunday, but now limited groups competing outside while still respecting social distance guidelines. Practices also look different. Usually weather permitting, the whole team would be outside across the track. If not, the team would take it to the school halls to get in laps. Now, the team is split into 3 different groups, with a rotation between inside, outside, and at home workouts. 
Junior track team captain Thomas Shelton said, "Obviously not having your actual competition beside you creates a whole different mindset, pushing yourself becomes even more difficult. But, I can't complain. It's a shift but I am just really happy to be able to compete. Some schools even decided to opt out of the season completely so I am thankful to still be able to participate."
For swimmers, another set of challenges also arise. Since Pelham does not have their own pool, the boys swim team has been practicing at the YMCA in New Rochelle. Like track, teams will compete on their home turf and scores will be sent into officials. 
Senior swim team captain Tommy Fontanalla said, "This year our team was greatly reduced because of graduating seniors. We also moved up a division. However, we are still just as motivated to compete. Even though there will be a virtual time trial competition, we are grateful to have a season."
This season is like nothing athletes have faced before, but beggars can't be choosers. Though there will not be an opponent pushing them in the next lane, competitors will be challenged in unimaginable ways.  Though it's not an ordinary season, participants are still eager to partake.