TV Review: Demi Lovato's "Dancing with the Devil"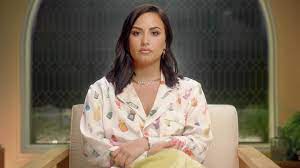 Amidst the global enthusiasm surrounding pop culture, society tends to glorify the lives of people in the public eye to a point at which they are represented as superhuman. While being held to unrealistic ideals in the minds of many, celebrities are subject to perfectionistic standards to which no individual can entirely conform . This establishes a desire to adhere to the unrealistic standards that are set by the public and the media. Demi Lovato goes into depth about such issues in her docuseries Dancing with the Devil.
For a large majority of her life, Lovato has been in the public eye: beginning her career on Barney during her childhood, starring on Disney Channel throughout her adolescence, and being a prolific singer during adulthood. Her success as a singer has oftentimes cost her the opportunity to lead her life without the excessive standards of being in the spotlight and the overwhelming scrutiny of the media, the public, and her management. 
In a series of interviews, the docuseries provides a candid account of Lovato's struggles from her experience and the perceptions of those close to her. It covers her overdose that occurred almost three years ago and the challenges that led up to it, including the pressure that her previous management put on her and their refusal to allow Lovato to seek the help that she needed. The docuseries touches on a variety of topics surrounding mental health, such as addiction and eating disorders, which ultimately were a major part of her journey to self-acceptance.
In addition to Lovato's recount of her experiences, the docuseries contains music from her newest album, Dancing with the Devil: The Art of Starting Over. It includes live footage of the premiere of the docuseries in which Lovato performed several songs that harnessed her extraordinary talent. Throughout the performance, she maintains a significant degree of power and character as she tells her story in the form of music.
The pure honesty within the documentary starkly sets it apart from the media's depictions of the lives of celebrities. During the moments that externally seemed to be peaks in Lovato's career, she was presented with extreme challenges that she struggled to cope with in a healthy manner. She discusses her personal path to regaining control over her life and to growing more content with her identity, where she was no longer ashamed of who she was.
This docuseries is a must-watch, with its captivating story of overcoming immense obstacles to developing a healthy relationship with oneself. It is found exclusively on YouTube, where music from Dancing with the Devil: The Art of Starting Over can also be found.