New York Becomes 15th State to Legalize Marijuana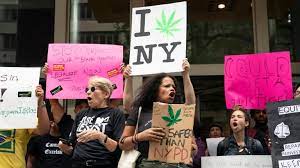 After many tries, New York has formally become the fifteenth state to legalize marijuana for adult use and sale. State lawmakers passed the bill on March 30, making the drug legal for those twenty-one and up, potentially paving the way to expand a $4.2 billion trade. On March 31 Gov. Andrew M. Cuomo signed the bill, followed by hours of debate in Albany, New York. 
New Yorkers are now currently licensed to possess up to three ounces of marijuana or 24 grams of concentrated cannabis in their homes, for a maximum of five pounds. Many of the same rules that apply to tobacco products will apply to cannabis products as well. People who smoke or consume in non-smoking zones face a civil penalty of up to $50 or up to 20 hours of community service. Additionally, the scent of cannabis on an individual does not give law enforcement the right to stop and search the person, whether it be in an area where the drug is considered illegal or not. 
The bill includes a comprehensive strategy for reinvesting millions of dollars into minority communities. Forty percent of the tax revenue from marijuana sales will be directed towards those communities. The legislation also allows people who have been convicted of marijuana-related crimes that are no longer deemed illegal to have their records automatically erased.
Other improvements and modifications will occur in the coming months as officials create a modern, highly regulated market. For instance, people will be able to order marijuana online, consume it at lounge-style consumption locations, and cultivate up to six plants in their homes. 
Patients who have previously used marijuana for medicinal purposes will be impacted substantially by this legislation. Patients will receive up to a 60-day supply of marijuana instead of the previous  30-day cap on medicinal marijuana use. However, it's not solely patients that have benefitted from this law as many corporations have also benefited. Medical cannabis businesses in  New York, which are currently ten corporations, will be eligible to access the more lucrative recreational market for a one-time, upfront fee. 
With New York finally putting forth legalization for marijuana plant products, controversies and doubts have risen.  Rob Ortt, the Republican leader in the Senate said, "This deal legalizing marijuana is the result of closed-door discussions between leaders of one political party and a governor who is engulfed in scandal. The outcome of these partisan negotiations is a deeply flawed piece of legislation that will hurt the health and safety of New Yorkers." Unlike Senator Ortt, State Senator Liz Krueger, a Democrat from Manhattan who sponsored the bill in the upper chamber, said in the State Capitol, "I cannot be more proud to cast my vote to end the failed policies of marijuana prohibition in our state and begin the process of building a fair and inclusive legal market for adult-use cannabis." It seems only time will tell if this move will generate positive impacts or negative repercussions.