Critics' Corner Film Review: Operation Varsity Blues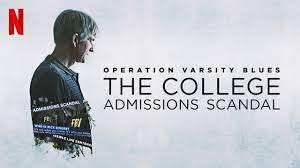 Some people are interested in crime films, while others may prefer to hear about the latest scandals. Operation Varsity Blues is a documentary covering the scandal of the same name that rocked the nation in 2019. Released on March 17, the new documentary directed by Chris Smith, is available on Netflix. While centering around the most recent and among the largest college scandals ever, the documentary breaks down the events in an entertaining and shocking fashion to audiences. 
The film stars Mathew Modine, who plays the mastermind behind the scam, William Rick Singer. He re-enacts the process of how Singer got among the wealthiest parents in the US to pay him top dollar in order to be guaranteed that their child or children would receive admission at a top university of their choice. The documentary is chock-full of instances of lies, fraud, glimpses at what happened behind closed doors, and private conversations that will keep viewers tantalized at the edge of their seats.
Operation Varsity Blues gives its viewers a first-person perspective of how William Rick Singer would execute the infamous "side door" method Singer preached. It shows interactions with the contacts Singer had within top universities and colleges, from coaches to admissions officers, many of whom maintain that they were completely unaware of any sort of scandal. The documentary also focuses on Singer's clients and provides insight into why many of these families decided to employ Singer. Familiar celebrities such as Lori Loughlin, Felicity Huffman, and more paid thousands if not millions to Singer and his promises.    
The documentary also provides its viewers with real footage obtained by the FBI. There are recreations of actual wiretaps and interviews with families, coaches, and counselors. There is also video footage of trials and information current from when the documentary aired on how different clients pleaded in court. Besides Singer's system, this case also raises awareness about how the college admissions system itself is broken. Operation Varsity Blues is just one of the many examples in which fraud, bribes, favoritism, and lies have sullied the college process. 
Overall, the documentary Operation Varsity Blues is extremely well-produced and informative. The documentary will be sure to keep your eyes glued to the screen. If you are someone who enjoys the crime/mystery genre or are interested in high-profile scandals, this is definitely a movie to enjoy.