Critics' Corner Film Review: The World's a Little Blurry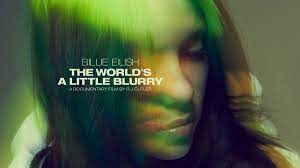 At just 13 years old, Billie Eilish came out with her hit song Ocean Eyes on SoundCloud. This was just the beginning of a long journey that would eventually turn her into one of the most popular singers we know today. The documentary, The World's a Little Blurry was released on February 26, on Apple TV+. Directed by R.J Cutler, this movie revolves around the talented artist Billie Elish and her rise to fame. Viewers are able to see Billie in a more natural light as the documentary depicts the too often overlooked realities of being a teen in the music industry. 
This movie is a great choice for Billie Eilish fans or even for those who are curious about how the artist rose to fame. This film includes real footage of her life, including what it's like to be backstage at Billie's concerts. Preparations for her tours and the production of her music videos have all been documented for the production and display elements of Billie's vulnerability and her struggles with mental health to allow for a deep understanding of the milestones she's faced in the process. Fans of Billie Eilish are able to see what they otherwise would not be able to just from social media or her many performances.  
With the focus brought to the aspect of mental health issues, Billie discusses multiple times throughout the film the hardships she faced with depression and anxiety. She speaks about her daily challenges with Tourette's Syndrome and how she tries to not be negative or embarrassed by her challenges dealing with it. Another challenge Billie mentions is how from a young age she loved to dance, but sadly had to abandon her passion due to an injury. This eventually became a painful and emotional specter that Billie reveals haunts her to this day. Viewers will get the chance to see just how much of a toll the past injury has had on Billie in her performances. The unknown and fear of the future is another aspect that is explored in this film, and Billie expresses how she attempts to always "live in this moment" and is shown stressing this idea to her fans many times, though admits that it's not always that easy for her.  
When it comes to singing and performing for her fans, Billie finds almost no difficulty, but the songwriting process is demonstrated in the film to not come to her as easily. She explains how difficult and frustrating it can be to really allow yourself to be vulnerable in order to convey your message to an audience. The aspect of vulnerability in songwriting is a process she is shown to be working on and leaning on her brother Finneas for support and guidance 
The World's a Little Blurry is overall an amazing documentary about Billie Eilish that includes various details about her life that many may not know of. After watching the film, one develops a deeper understanding of Billie's life and who she is behind her persona. The producers put a great amount of effort into providing valuable footage from Ellish's past and present to provide a deeper understanding of her musical personality. It is a must-see for those who idolize Billie or for those looking to see the realities behind the fame and the music industry. It's more than just a film about Billie's career, it allows its viewers to really get to know a different side of Billie that is vulnerable while also witnessing the struggles and victories in her life.