New Clubs at PMHS
Albanian Club, Dungeons and Dragons Club, Ocean Conservation Club, and Veterinary Science Club Join the Roster of New Extracurricular Activities!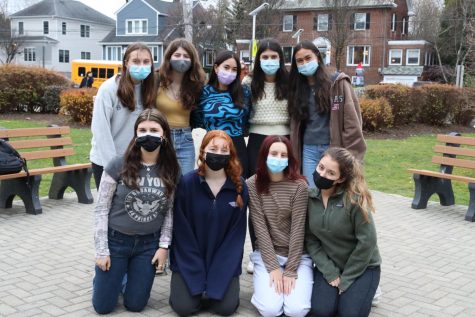 Are you feeling like none of the old clubs have resonated with you? Or, are you someone who has just not found a club you will enjoy? Luckily, there are many newly approved clubs now available for your consideration here at Pelham Memorial High School! These newest clubs are the Albanian Club, the Ocean Conservation Club, the Dungeons and Dragons Club, and the Veterinary Science Club. They are a great way to support new ideas and possibly find a new hobby.
The Albanian Club, founded by Maria Shytaj is a perfect way to explore Albanian culture, history, literature, and more.
"I moved from Albania to Pelham two years ago and as soon as I became a part of the school I noticed that there were many Albanian students. Immediately I thought of creating a club with the goal of bringing all of these students together and having a forum where we can learn about what unites us," Maria said.
The goals for this club are to explore diversity within the Albanian community, while also pursuing cultural connections and supporting incoming Albanian families. The group is hoping to attract the Albanian students of PMHS, as well as non-Albanian students who are interested in helping their community. They will do this by reaching out to elementary schools to provide tutoring sessions and translation for families. If you would like to join and engage in a great way to help our community, email Founder Maria Shytaj.
Are you looking for a way to help our ocean and its creatures, as well as to take actions that benefit our earth? If so, talk to sophomore Hannah Steinberg and join the Ocean Conservation Club (class code ex4zfaf)!
Founder Hannah Steinberg said, "I'm really passionate about the ocean as well as its wildlife. I want to make a difference and be proactive about the damage to the ocean, while also teaching others to do the same."
The club is looking to raise money for ocean conservation, make a hands-on difference, and inspire and advocate for the dangers the ocean is facing. They are hoping to do this through beach cleanups, fundraisers, and other creative ways of sharing information and awareness with our school. They are planning to donate their funds to ocean-based organizations such as WWF, 4Ocean, and more. If you're passionate about the ocean and want to spend your time changing the world, email Founder Hannah Steinberg. 
Have you ever played the game Dungeons and Dragons or do you have an interest in learning the ways of the game? Sophomore Spencer Conrad has now introduced a Dungeons and Dragons Club and wants to spread the word! The club is not only teaching people the game, but it is also bringing those with this hobby together.
Founder Spencer Conrad says, "I got suggestions that there should be a school club for Dungeons and Dragons since there was a club for Dungeons and Dragons in middle school but not in the high school."
The club hopes to see more people participating and running events in the future. The club is also hoping to expand and provide a fun Dungeons and Dragons experience in high school. Don't miss out. Email Founder Spencer Conrad for an exciting chance to make new friends through Dungeons and Dragons.
Do you like animals and are you interested in medical science? The junior Isabella Tomic has formed a Veterinary Science Club for those to which this applies. The club aims to educate students on animal health while providing a fun environment to meet others who are interested in taking care of our furry, feathered, or finned friends!
Founder Isabella Tomic says, "I really love animals and only had a few opportunities to learn Veterinary Science."
Their goals are to raise money to donate to South American non-profit organizations, so they can have the proper materials to take care of animals. The group is planning on reaching out to local vets by Google Meet, the local vets can answer questions as well as share information. This club is looking for people that want to learn about the science of animals, however, they do not have to be big on science, as long as they are ready to take part in helping these animals. If you're looking to get involved in learning about illnesses in animals and common treatments and a fun time, email Founder Isabella Tomic.
If you're not in a club, you're missing out on a lot of good experiences and memories in the making. Clubs are a great chance to get involved to make a change or simply meet new people. Pelham offers fantastic ways to include yourself in the community and it is imperative that you look to join one since the perfect club is waiting for you.