Senior Liv Pollock Places 1st in Enviro Science at 60th JSHS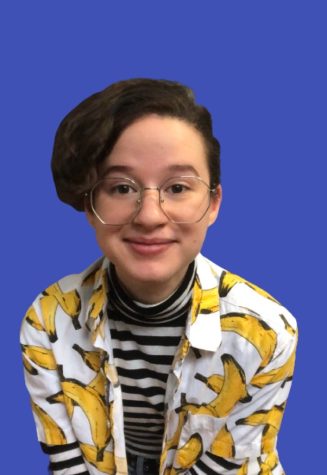 On April 24, senior Liv Pollock, won first place in oral presentation on environmental science at the 60th National Junior Science and Humanities Symposium in Albuquerque, New Mexico. Pollock won a $12,000 scholarship for college for their presentation "Developing and Assessing Fucose-Based Water-Soluble Bioplastics." 48 national winners first presented their original scientific research at one of 49 regional competitions hosted by universities and colleges in the U.S., and Puerto Rico. The top five students from each region were invited to compete at the National JSHS event as finalists. The top two finalists in each region competed in oral presentations for the chance to win a scholarship prize.
Pollock said, "My project has been a continuation of about three years of work. What initially started as a freshman final 'Shark Tank' project evolved into the first iteration of my biofilms: plastics made of polyvinyl alcohol (PVA) and carboxymethyl cellulose (CMC) that dissolved in water. For my senior project, I opted to replace the PVA and CMC with natural alternatives, and test biodegradation as well as dissolution."
Pollock's project was a groundbreaking move for the future with plastics that could reduce waste and rifting of other species.
In May, Pollock will move on to ISEF to take on international competition.