AP Exams Return to Normalcy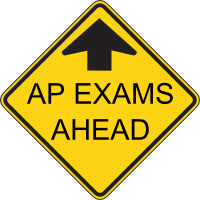 For the first time since 2019, the College Board held all AP exams in person as opposed to the virtual test-taking format that was previously used during the COVID pandemic. This meant that all PMHS students currently enrolled in Advanced Placement classes took their end of year exams in person for the very first time. At the beginning of the pandemic in 2020, College Board held virtual exams for the first time. Most AP courses had an essay or free response with an hour allotted. This was different from the previous format, which consisted of multiple choice questions and essays over a span of three hours.
This was the senior class' first time ever taking an AP exam in person and on paper. Even during the 2020-2021 school year, most teachers accounted for the transition back to in-person learning by having open-notes assessments. However, this year felt like a big change away from that method of test taking as teachers have reverted back towards period-long, closed-notes tests and quizzes.
In addition to exams being held in person this year, the exam window was during the first two weeks in May, as opposed to the first two weeks in June, which was the case during the last two years.
"This year is going to be a lot more stressful as we have never taken APs in person. But in the long run, I think it will be beneficial in order to help me prepare for college," said senior Kate Dougherty.
A positive result of the in person APs will be that students will have more time in the final weeks of the school year to enjoy the end-of-year festivities. Seniors will be able to complete their high school careers without the College Board-induced stress