NYS and Others Offering Incentives to Increase Vaccination Rates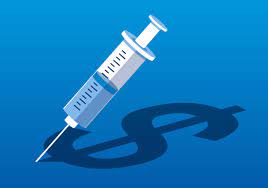 As the vaccine becomes available to more and more of the general public, New York State officials are trying to entice people of all ages to sign up for the shot.  Over the past month, a series of incentives from both private businesses and New York State have arisen, attempting to get as many people vaccinated as possible.  
Krispy Kreme reportedly started the incentive craze back in March after offering those getting vaccinated free donuts.  Since then, a myriad of offers has surfaced from alcohol to straight-up cash.  New York State started to see these offers toward the beginning of May, with NYC Mayor Bill Deblasio's "when you get your vax, we're giving back" campaign.  He offered free tickets to various city attractions such as The Bronx Zoo, NYC Aquarium, Lincoln Center, and many others.
Cuomo has recently added more incentives for all age ranges and for the three different variations of the vaccine. One of his campaigns, coined "Vax and Scratch," offers those over 18 a scratch lottery ticket when getting their Johnson and Johnson or first Pfizer shot.  He claims the odds of winning are 9 to 1 and that the cards have a $20 value. He's also had pop-up immunization locations in the New York City subway stations, offering those willing to take the Johnson and Johnson shot free rides.  
These motivations are a response to the drop in vaccination rates.  "The number of vaccinations is dropping off dramatically, we're now doing fewer than 100,000 per day — that's a dramatic decline, 55% decline in how many vaccines we're doing," noted Cuomo during a press briefing.  With around half of US citizens at least having their first immunization, there is a determined push to increase numbers.  
The most recent incentive is a lottery targeted at teenagers.  It has been reported that teens are the lowest vaccinated group as well as being the group with the most positive cases.  This free lottery, open to any 12 to 17-year-old, automatically puts your name in a raffle when you get your Covid shot. If picked, the individual gets a free scholarship to any public SUNY or CUNY school in New York. The incentive game is nowhere near over and will continue for the foreseeable future as officials across the country try their best to get people vaccinated.