18 Groups Fight it out at BATTLE OF THE BANDS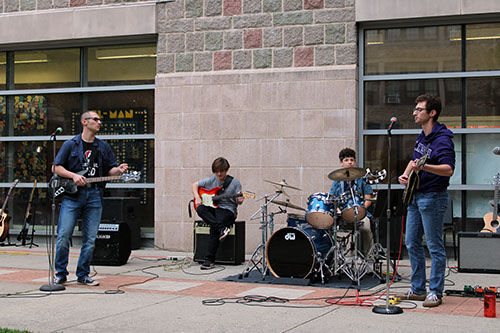 On May 26 in the courtyard between the high school and middle school, live music was played in the annual Battle of the Bands. The event had excellent music and allowed the community to experience performances by local bands. The concert ran from 6PM to 8PM. This concert itself was momentous, with 18 bands playing, more than any in the history of the event. This limited the acts to only two songs or one solo song. The Student Association organized the event under Ms. Marousek and was emceed by juniors Leila Brady and Audrey Levenson.
Levenson, who is part of The Heartbeats and Acapelicans said, "Having Battle of the Bands outside turned out to be an opportunity in disguise – we were able to celebrate the end of APs and the beginning of Spring, all while performing for the community in an incredibly uplifting way."
The event itself cost $5 for entry with proceeds going to the SA. There was a great turnout from Pelham coming into the event with the courtyard being packed with people. A bake sale run by the SA was supplying food at the event while also concurrently being able to raise money for the Olympics which were in June. Overall the event was a great way to enjoy the talent of Pelham's music.
Next year's Battle of the Bands will be back in the Auditorium, with performances from PMHS's best.