Senior Meredith Heller Wins Roger Rees Award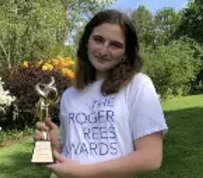 The Broadway Education Alliance presented the 10th annual Roger Rees Awards for Excellence in Student Performance, a celebration of high school musical programs, in a special livestream event on June 1 at which Pelham senior Meredith Heller was named Best Actress from a pool of fifty finalists — twenty-five boys and twenty-five girls.
A panel of Broadway professionals including Bonita Hamilton (star of Disney's The Lion King), Hal Luftig (Tony Award-winning producer), Rob McClure (star of Mrs. Doubtfire), Patricia Hoag Simon (Marymount Manhattan College), and Merri Sugarman (Tara Rubin Casting) made the selection of the Best Actor and Best Actress from ten finalists from the Greater New York Region.
Although this year's musical, How To Succeed in Business Without Really Trying  never got to be performed due to the Covid pandemic, Meredith was, nonetheless, nominated for the award along with co-star Jack Finegan. Jack made it to the top 25 among the actors, but did not advance. Meredith represented the musical by singing "Happy to Keep His Dinner Warm."
Meredith is the second performer from PMHS to have won this prestigious honor. In 2014, then-sophomore Sarah Liddy won Best Actress for her performance in The Drowsy Chaperone.